Kamala Harris Torpedoes Ron DeSantis's Shameless Invite to Debate Black History
"They insult us in an attempt to gaslight us, in an attempt to divide and distract our nation with unnecessary debates."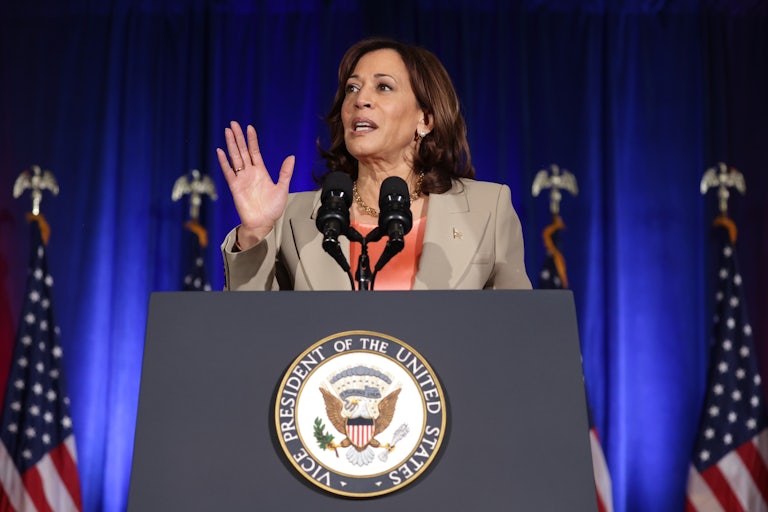 Alex Wong/Getty Images
Vice President Kamala Harris
Kamala Harris is not interested in talking about Black history with Ron DeSantis.
The vice president rejected DeSantis's invite to discuss the state's new horrendous Black history curriculum, which requires teaching students that enslaved people learned valuable skills thanks to slavery.
"Well I'm here in Florida, and I will tell you there is no roundtable, no lecture, no invitation we will accept to debate an undeniable fact: There were no redeeming qualities of slavery," Harris said Tuesday at the 20th Women's Missionary Society of the African Methodist Episcopal Church Quadrennial Convention in Orlando.

"Right here in Florida, they plan to teach students that enslaved people benefited from slavery," she continued. "They insult us in an attempt to gaslight us, in an attempt to divide and distract our nation with unnecessary debates, and now they attempt to legitimize these unnecessary debates with a proposal that most recently came in of a politically motivated roundtable."
Florida's new Black history curriculum has been met with backlash due to its extreme revisionism.
The Florida State Board of Education approved new social studies standards last month that say middle school students should learn that "slaves developed skills which, in some instances, could be applied for their personal benefit." Other language says high school students should be taught that Black people were also perpetrators of violence during race massacres.
DeSantis has gone above and beyond in watering down Black history, both in Florida and beyond. He successfully got the College Board to revise its A.P. African American studies course after threatening to ban the curriculum in Florida. The new curriculum stripped many of the sections that DeSantis had complained about, including the work of prominent Black queer writers and a section on the Black Lives Matter movement.
Last week, Florida's Department of Education also approved the use of school curriculum from PragerU, a right-wing group that downplays the horrors of slavery and dismisses any acknowledgment of racism (especially against Black Americans) throughout U.S. history.
Harris made clear Tuesday that she has no interest in any of this.
"As I said last week, when I was again here in Florida, we will not stop calling out and fighting back against extremist so-called leaders who try to prevent our children from learning our true and full history," she said. "And so, in this moment, let us remember, it is in the darkness that the candle shines most brightly."