Trump Is Secretly Strategizing With Republicans on Biden Impeachment
New reports say Donald Trump has been meeting privately with several Republican lawmakers on Biden's impeachment inquiry.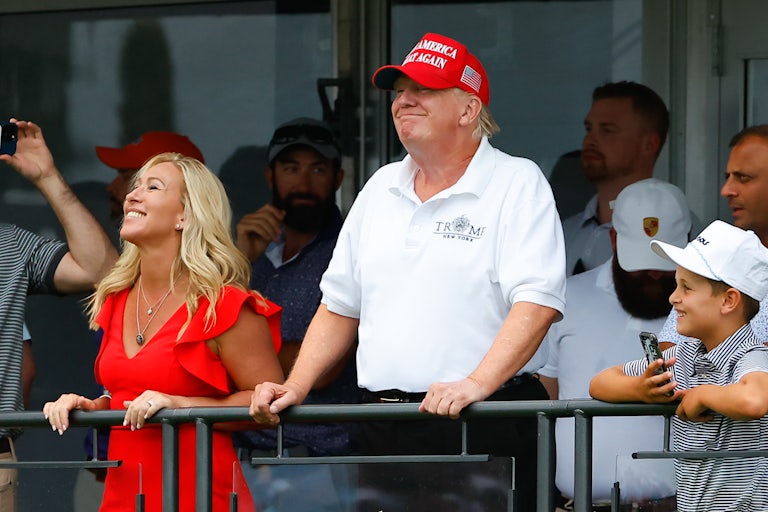 Rich Graessle/Icon Sportswire/Getty Images
Donald Trump privately met with Marjorie Taylor Greene to discuss what a "painful" impeachment inquiry into President Joe Biden would look like.
These talks happened just ahead of Speaker Kevin McCarthy's announcement Tuesday of a formal impeachment inquiry of the president.

Trump and Greene caught up on their plan for getting Biden impeached over dinner at his private Bedminster, New Jersey, club on Sunday.
"I did brief him on the strategy that I want to see laid out with impeachment," Greene told The New York Times. Greene added that she told Trump she wants the impeachment inquiry to be "long and excruciatingly painful for Joe Biden."
Greene is one of several Republican lawmakers that Trump has been privately meeting with to discuss Biden's impeachment.
Trump has also spoken with Representative Elise Stefanik on a weekly basis as well as conservative House Freedom Caucus members pushing for impeachment.

House Republicans argue that as vice president, Biden made decisions to benefit and profit from his son's business dealings. But despite months-long investigations, they have yet to provide any actual evidence of Biden's supposed crimes.
"Biden is a Stone Cold Crook—You don't need a long INQUIRY to prove it, it's already proven." Trump wrote on Truth Social in August. "Either IMPEACH the BUM, or fade into OBLIVION. THEY DID IT TO US!"
Trump himself was impeached twice during his presidency and has been criminally charged four times this year.