Republicans Release FBI Doc at Heart of Biden Bribery Claims—And It Shows Nothing
The unverified document does nothing but quote a Rudy Giuliani conspiracy theory.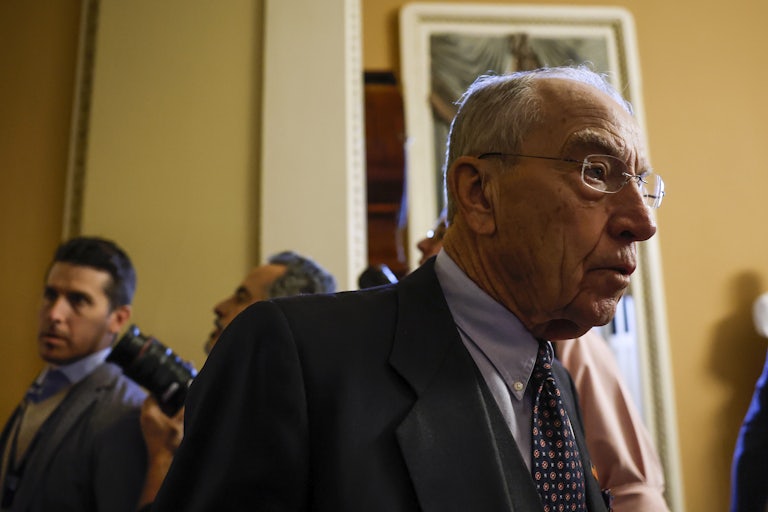 Anna Moneymaker/Getty Images
Senator Chuck Grassley
Senator Chuck Grassley on Thursday released the FBI report that Republicans claim proves the Bidens accepted bribes from Ukraine. But there's just one problem: There's still no evidence.
House Republicans have accused the Biden family of corruption for months but have been unable to provide any actual evidence linking President Joe Biden or his son Hunter to any wrongdoing. The GOP has repeatedly insisted that the just-released FBI document, which House members were initially allowed to see in June, proves the two men accepted bribes.
But this is an unverified form, and it relies on a Rudy Giuliani conspiracy theory.
Donald Trump and Giuliani, his personal attorney at the time, first pushed the conspiracy that the Biden family accepted a $10 million bribe to remove former Ukrainian prosecutor Viktor Shokin in 2016 to stop a probe into Hunter Biden's role at the oil company Burisma Holdings. Several Republican lawmakers have since said that not only does the FBI's FD 10-23 form mention this bribe but a Burisma executive has audio recordings of Biden and Hunter Biden accepting the money. Both Anna Paulina Luna and Marjorie Taylor Greene said in June that the executive is Burisma owner Mykola Zlochevsky.
Grassley has now released the form, which does mention that Zlochevsky made the initial bribery allegations. Republicans are celebrating the move, insisting it proves that the Bidens are guilty of corruption.
But the thing is, FD 10-23s are used to record unverified information. All this document does is confirm that someone said that Zlochesvky made the accusation. It doesn't actually provide concrete proof. This claim has been repeatedly debunked by multiple State Department officials and intelligence experts on Russia and Ukraine. This week, even former Giuliani associate Lev Parnas said the theory has no merit, calling it a "wild goose chase."
What's more, the confidential human source, or CHS, admits in the same document that the information might not be true. The source told the FBI that it's common for Ukrainian businessmen to "brag or show-off," according to the document.
"As such, CHS is not able to provide any further opinion as to the veracity of Zlochevsky's aforementioned statements," the document concludes.
Zlochevsky himself has also said he never received any help from the Bidens. When asked by Politico in 2020 whether Biden had ever assisted Burisma while he was vice president, he said simply, "No." Zlochevsky also said that "no one from Burisma ever had any contacts with VP Biden or people working for him" while Hunter was on the company board.
But Republicans, led by Comer, have insisted that Biden is guilty of corruption, despite repeatedly admitting that they have no evidence, they don't know if their information is legitimate, and they don't even really care if the accusations are accurate. Their star witness was also just charged with acting as a foreign agent and arms trafficking.
While Grassley may have scored major brownie points with his party by releasing the form, he also likely just landed himself in hot water with the FBI. The bureau last month warned House Oversight Committee Chair James Comer, who has spearheaded the Biden investigation, that he was being too lax with security restrictions on the FD 10-23.
"We are concerned that Members disregarded the Committee's agreement that information from the document should not be further disclosed," the FBI said in a letter. "Several Committee Members publicized specific details regarding their recollection of confidential source reporting purportedly referenced in the document."
"The conduct of some Committee Members during the June 8 review flagrantly disregarded our agreement and has the potential to cause grave harm."