Desperate Rudy Giuliani Visited Mar-a-Lago to Beg Trump for Help With Legal Fees
Things are not looking very good for Trump's former lawyer.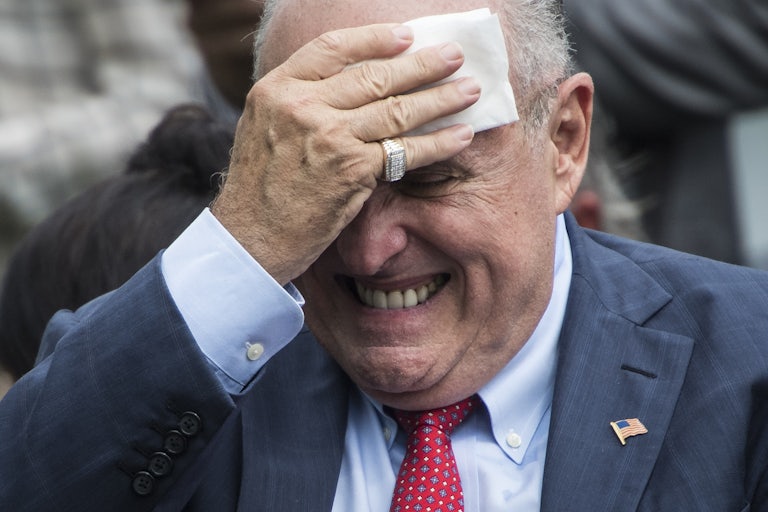 Rey Del Rio/Getty Images
A desperate Rudy Giuliani traveled all the way to Mar-a-Lago to beg Donald Trump to pay his legal bills—but the former president didn't seem all that interested in donating, according to a new CNN report.

Giuliani and his lawyer Robert Costello visited the former president in April, in the hopes that an in-person appeal to Trump would better persuade him to help pay for Giuliani's steadily growing legal bills.

Giuliani and Costello met with Trump twice while visiting Mar-a-Lago, and while Trump verbally agreed to pay some of Giuliani's bills, he was unspecific about how much he'd be offering and didn't give a timeline for his financial support.
"It's not a smart idea" for Trump to deny Giuliani's request for funds, a source told CNN.

Trump, of course, is notorious for not paying his legal team, but he may want to stay in Giuliani's good graces in the wake of the newest indictment out of Fulton County, Georgia.
On Monday, Giuliani was indicted along with Trump and 17 other co-defendants for helping to overturn the 2020 election. Giuliani faces 13 charges, including racketeering. It is likely that Giuliani will be under immense pressure to cooperate with federal and state prosecutors.

Trump did make some small promises to Giuliani, sources say. He agreed to stop by two fundraisers for Giuliani, and to cover an outstanding fee from Trustpoint, a data vendor hosting Giuliani's records. A few months after their meeting, Trump's Save America PAC paid $340,000 to Trustpoint.

Giuliani has been in dire straits for months and is facing hundreds of thousands of dollars in legal bills.
At a hearing on Wednesday in the ongoing defamation lawsuit against the former mayor brought by Smartmatic, the voting technology company, another attorney for Giuliani told the judge that Giuliani does not have the money to pay additional legal costs to produce records for that case.

"There are a lot of bills that he's not paying," Giuliani's attorney Adam Katz said at the hearing. "I think this is very humbling for Mr. Giuliani."

With the new indictment, Smartmatic's defamation suit, his former associate's sexual abuse lawsuit against him, and yet another lawsuit over an anti-Biden documentary scam, this is looking like it will be a very expensive year for the former mayor. If only his partner in crime were willing to foot the bill.