Comer Gives Away the Game When Asked Why He Won't Just Subpoena Hunter Biden
House Oversight Chair James Comer has insisted for months that Hunter Biden is up to something nefarious. So why not subpoena him?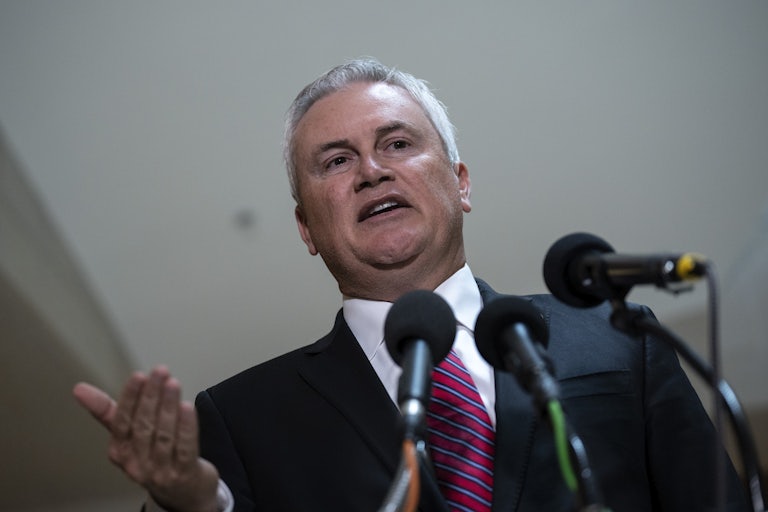 Drew Angerer/Getty Images
House Oversight Chair James Comer
Republicans could have avoided opening an impeachment inquiry into Joe Biden simply by subpoenaing his son. But they have no good answer for why they didn't take that option instead.
House Speaker Kevin McCarthy launched an impeachment inquiry into Biden on Tuesday, after months of the GOP insisting that the president and his son Hunter Biden are guilty of corruption and influence peddling overseas. Republicans have yet to produce any actual evidence of their claims.
And throughout all of the hearings and interviews, Republicans have not once subpoenaed Hunter Biden for testimony. When asked Wednesday why that was the case, House Oversight Chair James Comer, who has led the charge against the Bidens, couldn't answer.
During an interview with Newsmax, Comer said that Hunter Biden is "more than welcome" to testify on Capitol Hill. "He's invited today. We will drop everything," the Kentucky Republican said.
When host Rob Finnerty pointed out that Hunter Biden was unlikely to voluntarily appear before Congress, Comer haltingly replied, "Well, he can fight the subpoena in court. It's very difficult … if it were easy to get a president or their son in front of a House committee, then the January 6 committee probably would have done that with Donald Trump."
Comer's right that the House investigative committee on January 6 struggled to get Trump to appear. But that may be due to the fact that Trump swore in 2019 that he would fight "all the subpoenas" for investigations into his actions. His administration refused to provide information for more than 100 congressional investigations, and Trump even sued his own accounting firm to try to block it from giving his tax records to Congress.
In comparison, nearly 70 Biden administration officials have provided testimony, either in hearings or transcribed interviews. Oversight Committee members have been briefed by high-level FBI and Secret Service officials, and they have received thousands of documents from the Treasury and the FBI.
But rather than subpoena Hunter Biden, Republicans moved right to an impeachment inquiry. Despite Comer's hedging, the GOP has already admitted why. Republicans know they don't have enough evidence to actually impeach and convict Biden. They just want to make him look bad enough that he loses the 2024 election.