Republicans Want New Term for "Pro-Life" After Losing So Many Elections
Of course, Republicans will never change their position on taking away abortion rights. But they want a new way to say it.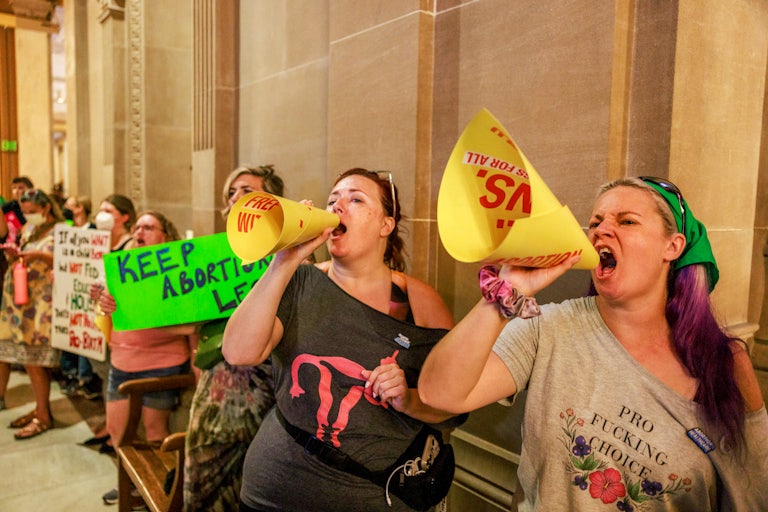 Jeremy Hogan/SOPA Images/LightRocket/Getty Images
Abortion rights activists chant slogans as the Indiana Senate debates before voting to ban abortion during a special session in August 2022.
Republicans have lost so many elections over abortion that they're thinking of changing up their strategy.
No, they're not introducing better policies. They're picking a term other than "pro-life."
Republicans have suffered a steady stream of losses over abortion rights since the Supreme Court overturned Roe v. Wade in 2022. During a Senate Republicans closed-door meeting this week, GOP strategists said the issue was how voters react to the term "pro-life" and suggested coming up with a new label, NBC reported late Thursday.
The strategists encouraged lawmakers to be as specific as possible when they discuss their stances on abortion. Senator Todd Young came up with the brilliant phrase "pro-baby policies."
Senator Josh Hawley summed up what he thought the problem was: "Most voters think ['pro-life'] means you're for no exceptions in favor of abortion ever, ever, and 'pro-choice' now can mean any number of things," he told NBC. "So the conversation was mostly oriented around how voters think of those labels; that they've shifted. So if you're going to talk about the issue, you need to be specific."
"You can't assume that everybody knows what it means," he added. "They probably don't."
It actually seems pretty clear that voters do know what "pro-life" means. Since Roe was overturned, Republicans have banned abortion completely in 14 states. In many other states, Republicans have limited abortion access with cruel laws to the point that the procedure is effectively banned anyway.
Meanwhile, the vast majority of Americans—62 percent, to be exact—believe abortion should be legal in all or most cases. They have repeatedly demonstrated this at the voting booth. If a referendum to increase abortion rights is on the ballot, or if a candidate runs on a pro-abortion platform, then people always vote to protect abortion, even in traditionally Republican strongholds.
The Senate meeting is one of the first times that Republicans have openly acknowledged they are suffering losses over abortion, but they are taking the completely wrong lesson away.
"I think their messaging was not the problem," Christina Reynolds, a spokesperson for Emily's List, told NBC. Emily's List is a nonprofit that promotes female-identifying candidates who support abortion rights.
"Their position is the problem, and they're going to be stuck with those positions."