TNR Hits the Polls as Georgians Turn Out to Vote
Here's what it looked like in a key state this election.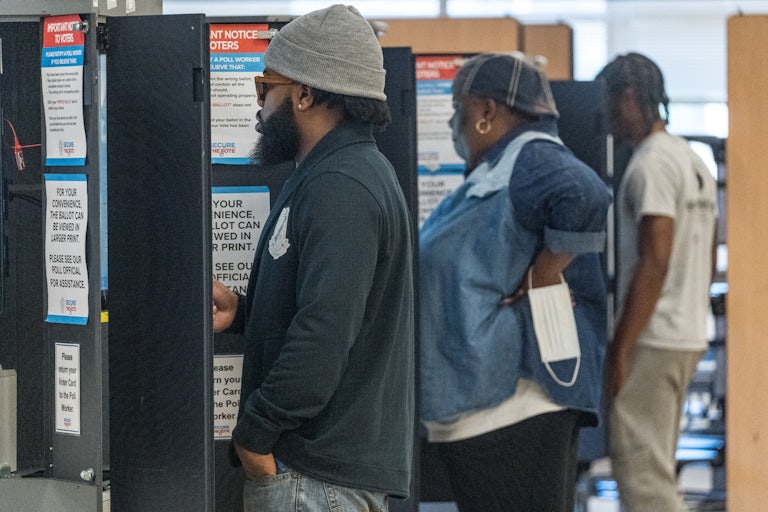 Megan Varner/Getty Images
Compared to the long lines voters experienced when casting their ballots during the state's early voting period, voting on Election Day in Georgia appeared to run smoothly—with few notable exceptions. In Fulton County, which encompasses Atlanta, many voters went in and out of polling locations at a brisk pace.
A poll worker at Park Tavern, which had notoriously long lines in the 2020 election, told me that this Election Day had not seen any significant delays. As the surrounding streets clogged with rush hour traffic, a growing number of voters ducked into the polling place after leaving work.
Ashley Adams, an attorney who volunteers with the Election Protection coalition to assist voters with any issues or concerns they may have regarding voting, told me that she had not received many inquiries from voters with questions about casting their ballot. The steady stream of voters, she said, was due to the "pressure" people were feeling to turn out.
"I think that there's a bit of election fatigue," Adams said. She predicted that many voters were hoping no race would go to a runoff—a possibility if candidates in the gubernatorial or Senate races do not obtain a majority of the vote.
It's a case candidates are making as well. As GOP Governor Brian Kemp told supporters at a rally on Monday evening, if he wins outright, "Y'all won't be getting mailers and phone calls and watching commercials during Thanksgiving." "It's going to be great," he promised.