No, Progressives Didn't "Make" Sinema Leave the Party
Arizona Senator Kyrsten Sinema alienated her own voters. Let's not pretend otherwise.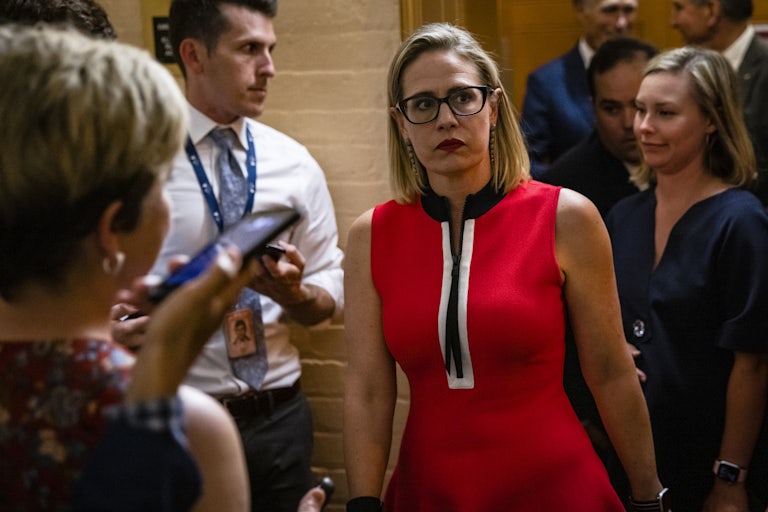 Samuel Corum/Getty Images
On Friday morning, Arizona Senator Kyrsten Sinema bravely announced she is now a registered independent, rejecting the "partisan process" in favor of "solving problems and getting things done."
Already, pundits are arguing that this is a situation where "progressives chase a moderate out of the party." In the coming days, there will be even more arguments about how the Democratic Party is so radical it pushed out a key senator.
But this notion infantilizes one of the most powerful people in America and downplays Sinema's own track record.
In reality, Sinema has a long history of obstructing the Democratic agenda. And whenever Sinema has blocked legislation, she has typically served the interests of the few.
Yes, there's her stubborn support for the filibuster in lieu of pushing forward democratic reform. But there's also the time Sinema stopped Congress from eliminating a tax loophole that served rich financiers. Or her opposition to raising taxes on wealthy individuals and corporations, reining in drug prescription prices, and spending even a fraction of what's necessary to support the climate—ultimately sinking the Build Back Better agenda. And lest we forget Sinema's infamous let-them-eat-cake thumbs down to giving working people a $15 minimum wage.
All this while Sinema has enjoyed massive hauls of cash from the pharma industry, payday lenders, and the financial sector. Doesn't sound so "independent," does it?
Progressive did not direct any "ire" at Sinema for no reason. Her own actions prompted it. When "solving problems" and "getting things done" is just in favor of the few, it's only natural that she'll alienate voters from her own party.
Let's not conflate "free thinking" with an unaccountable one.