Democrats Aren't Willing to Give McCarthy a Win—Yet
Despite murmurings of a possible deal, they are still unified in their opposition to Kevin McCarthy's bid for speaker.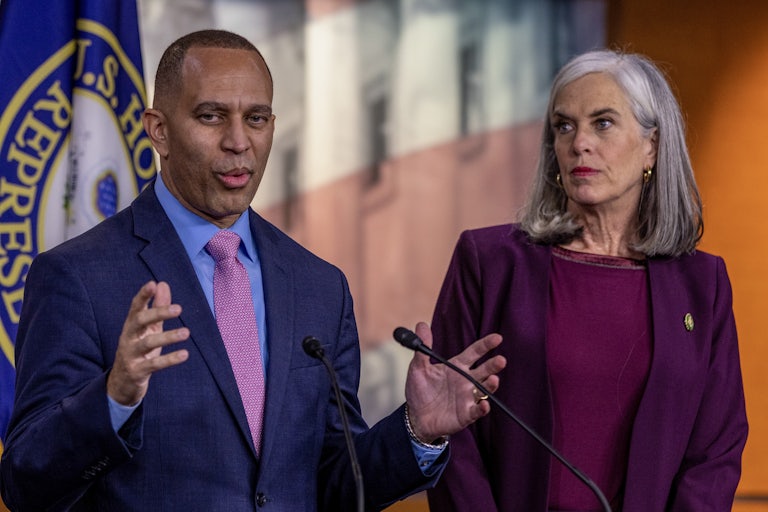 Tasos Katopodis/Getty Images
Will Democratic leader Hakeem Jeffries help resolve Kevin McCarthy's dilemma? Maybe, but not today.
Despite their newfound minority, House Democrats entered the Capitol in relatively good cheer this week, relishing the Republican disarray over who will be the next speaker. While GOP Leader Kevin McCarthy faced several defections in a series of votes for speaker on Tuesday, Democrats were united in their support for Democratic Leader Hakeem Jeffries. With no consensus, the House adjourned in the evening without a speaker—or without actually swearing in any members—ready to pick up where it left off on Wednesday.
While there has been some early speculation about how Democrats might have a role to play in resolving McCarthy's dilemma, they've thus far given no indication that they are ready to offer the would-be House speaker an assist. On Wednesday, Democrats signaled that they would vote against a possible motion to adjourn brought by Republicans, a move that would keep the Republican leader in the hot seat. Jeffries assured me on Wednesday morning that the party would "remain united" and said that he had not spoken to McCarthy about a possible resolution.
"Our colleagues are committed to support Hakeem Jeffries for speaker," Democratic Caucus Chair Pete Aguilar told reporters on Wednesday, adding that he had not heard from his Republican colleagues.
Democrats were also generally unimpressed with the notion, promoted by moderate Republican Representative Don Bacon, that they could offer some support to McCarthy. "I can't imagine Democrats voting for somebody who accommodated an insurrection and turned his back on the American people for the speaker of the House of Representatives," said Democratic Representative Dan Kildee after a Wednesday morning caucus meeting. But he was open to the idea of finding a so-called unity candidate: "If they want to pursue that, they know where to find us."
"I don't see Kevin McCarthy being a unity candidate," agreed Representative Alexandria Ocasio-Cortez. "I do think that if there is any potential of a coalition candidate or, you know, Democrats bailing out Republicans, I think that would have to result in a much deeper and a much more profound negotiation of the structure of the House." She offered some concessions that Republicans could make to earn Democratic votes on a speaker candidate: Granting committee chairmanships, for example, or agreeing to raise the debt limit, or a combination of multiple sweeteners. "I don't think that would happen in a couple of hours," Ocasio-Cortez continued.
Representative Rosa DeLauro also indicated that this was a Republican problem. "I think they have to sort it out," DeLauro told me, adding that she didn't think it was "likely" Democrats would take action to help McCarthy. "You don't come to the floor of the House without the votes to be able to win."
While Democrats may be popping the proverbial popcorn as this spectacle unfolds for their enjoyment, Kildee stopped short of saying that the new minority was having a good time. "The fact that Republicans are putting their dysfunction on full display has a lot of value. But if I wanted to have fun I'd think of some other things to do," Kildee said with a laugh.