A Trump Tower Doorman Who Said Trump Had a Child Out of Wedlock Was Paid $30,000 in Hush Money
Well, this was unexpected.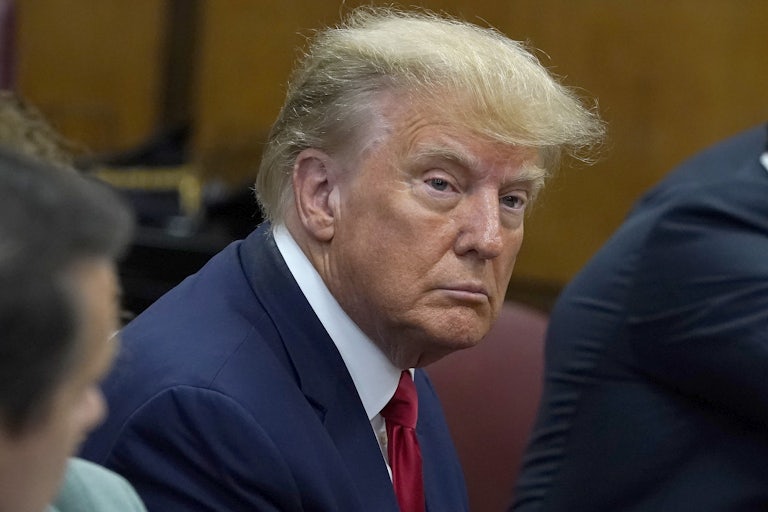 Timothy A. Clary/Pool/Getty Images
Did Trump have a child out of wedlock?
Twice-impeached former President Donald Trump was charged with 34 counts of falsifying business records on Tuesday. Trump became the first former president ever to be indicted, for his role in disbursing hush-money payments to porn actress Stormy Daniels. And what else was among those payments? A $30,000 payment to a former Trump Tower doorman for their silence about a potential Trump child out of wedlock.
"In one instance, American Media Inc. ('AMI'), paid $30,000 to a former Trump Tower doorman, who claimed to have a story about a child TRUMP had out of wedlock," the Manhattan district attorney's office announced Tuesday, referring to the company that owned The National Enquirer at the time.
While the case's focus has largely been on Trump directing his former lawyer Michael Cohen to pay hush money to Stormy Daniels, another $30,000 appears to have been spent elsewhere.
"During the election, TRUMP and others employed a 'catch and kill' scheme to identify, purchase, and bury negative information about him and boost his electoral prospects," the district attorney's office noted. "TRUMP then went to great lengths to hide this conduct, causing dozens of false entries in business records to conceal criminal activity, including attempts to violate state and federal election laws."
Though the district attorney's office did not specify, it seems the doorman might be Dino Sajudin, according to a 2018 report from The New Yorker's Ronan Farrow. Sajudin allegedly told a National Enquirer reporter that Trump had possibly fathered a child out of wedlock with a former housekeeper. Sajudin apparently passed a lie detector test on the idea, prompting AMI to pay him for the exclusive rights to the story, all in order to kill it.
While the payment has been previously confirmed by other outlets and now affirmed in the district attorney's statement of facts, there has not been confirmation on the affair, or whether a child came out of it, by any of the alleged involved parties. AMI also later concluded that the story was false, as the Manhattan district attorney's office noted.
The housekeeper in question has denied the affair's existence. "This is all fake," she previously told the Associated Press.
So it's not certain whether this child exists or with whom Trump may have allegedly had the affair, or even who the doorman was. But the new revelation adds yet another dimension to the financial entanglements Trump wound himself into in order to buy people's silence.
This post has been updated.