The Pro-Trump Protest Was So Small Organizers Are Pretending They Wanted It to Be "Low-Key"
The protests supporting Donald Trump ahead of his possible indictment didn't quite go to plan.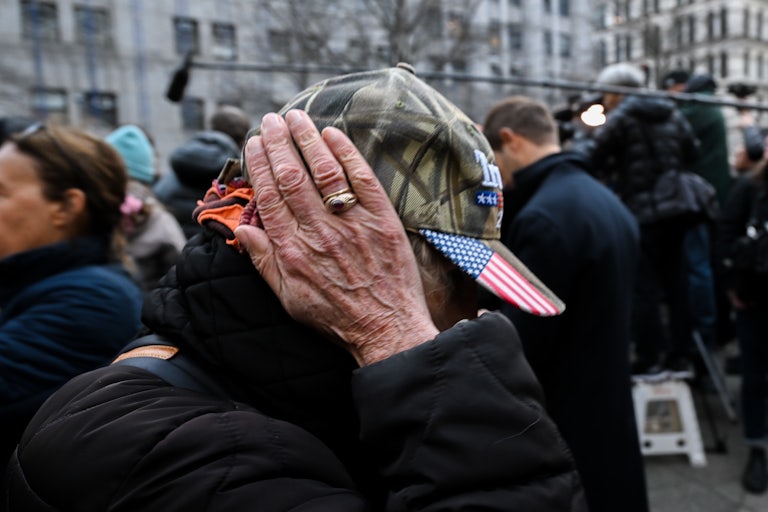 Alexi J. Rosenfeld/Getty Images
A supporter of former President Donald Trump covers her ears near a counterprotest near the office of Manhattan District Attorney Alvin Brag and the New York County Criminal Court on March 20.
Protesters descended on Manhattan to support former President Donald Trump, just as he predicted—if he predicted a group of only about 50 people.
Trump predicted over the weekend that he will be indicted Tuesday by a Manhattan grand jury for his role in paying adult film star Stormy Daniels hush money during his 2016 presidential campaign. He urged his followers on Truth Social to "PROTEST, TAKE OUR NATION BACK!"
But on Monday night, only about 50 protesters showed up outside the Manhattan Criminal Court.
One of the organizers, New York Young Republican Club president Gavin Wax, told Politico that the protest was intentionally small because it was organized "last minute" and was meant to be "low key."
"We weren't sure we even wanted to come out because some people don't like us, but we are here to show that there is support for President Trump in the bluest area in the country, here in Manhattan," Wax said, despite the fact that he'd predicted a crowd of 150 to 200 people earlier that day.
Another organizer said the club had "vetted" all the attendees ahead of time to keep any potential "bad actors" out—which says a lot about Trump supporters if only 50 made the cut.
Wax also advised against protesting further on Tuesday and said people should instead wait until later in the week.
New York law enforcement has been rushing to shore up security plans ahead of the potential indictment—understandably, given what happened the last time Trump urged his followers to turn out for him, on January 6, 2021, in Washington.
But it's unclear how many Trump supporters actually want to take to the streets on his behalf this time around. There have been some calls to action besides the New York Young Republicans', but most people seem to be wary of demonstrating.
The nearly 1,000 arrests made since January 6 seem to have played a role in discouraging similar unruliness. Those arrested in connection with the riot have racked up large legal bills, and many say they feel Trump abandoned them. Others, including Representative Marjorie Taylor Greene, have spread a conspiracy theory that the insurrection was fueled or set up by undercover law enforcement informants, and that any protests this week could be similarly used against Trump supporters.
This isn't the first time that Trump or his supporters have struggled to raise a major show of support. Back in November, just before the midterms, an intimidating group of six right-wing activists showed up to protest one of President Joe Biden's speeches.