People Are Dunking on Clarence Thomas After His B.S. Excuse for Not Disclosing His Billionaire-Funded Vacations
But they're "close personal friends"!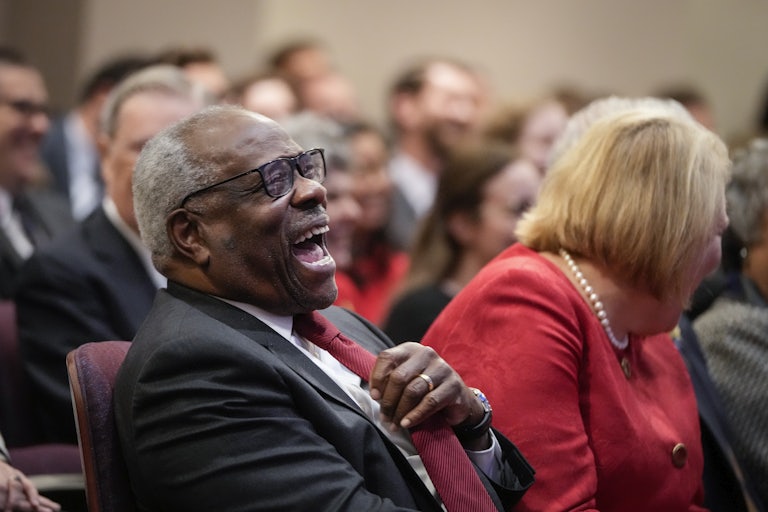 Drew Angerer/Getty Images
Clarence Thomas and his wife, Ginni
Supreme Court Justice Clarence Thomas thinks he doesn't have to disclose his vacations funded by a billionaire Republican megadonor because the two of them are "close personal friends."
The justice has spent decades secretly enjoying opulent getaways courtesy of Harlan Crow—and he disclosed none of them, in violation of a decades-old federal law, ProPublica revealed in a bombshell report Thursday.
But Thomas insisted in a weak statement Friday that he doesn't think he's done anything wrong. "Early in my tenure at the Court, I sought guidance from my colleagues and others in the judiciary, and was advised that this sort of personal hospitality from close personal friends, who did not have business before the Court, was not reportable," he said.
People were not having it.
"What a joke this person is supposed to sit in judgment of anyone else's adherence to laws," reporter Laura Rozen tweeted. "Could pick someone out of the phone book at random with more credibility."
Lawyer Joyce Vance pointed out that "personal hospitality is a nice dinner or maybe a weekend visit at a close friend's lake house. It's not persistent travel where you rub shoulders with conservative folks with litigation interests before SCOTUS on an at-least-annual basis."
Some people were shocked that Thomas's main defense was essentially, "Oops!"
Thomas and his wife, Ginni, have come under increased scrutiny for their fuzzy ethics. Ginni Thomas was closely involved in efforts to overturn the 2020 election. In January 2022, her husband was the only justice to vote against the release of communications that ultimately revealed her involvement.

Part of the problem is that the Supreme Court is largely self-policing, and some of them are doing a very bad job of it.
Read more about Thomas's wrongdoing here.