Transphobes Hijack "Boycott Tampax" Hashtag After Company's Viral Tweet
A closer look at the trending hashtag shows TERFs attacking trans and nonbinary people for purchasing tampons.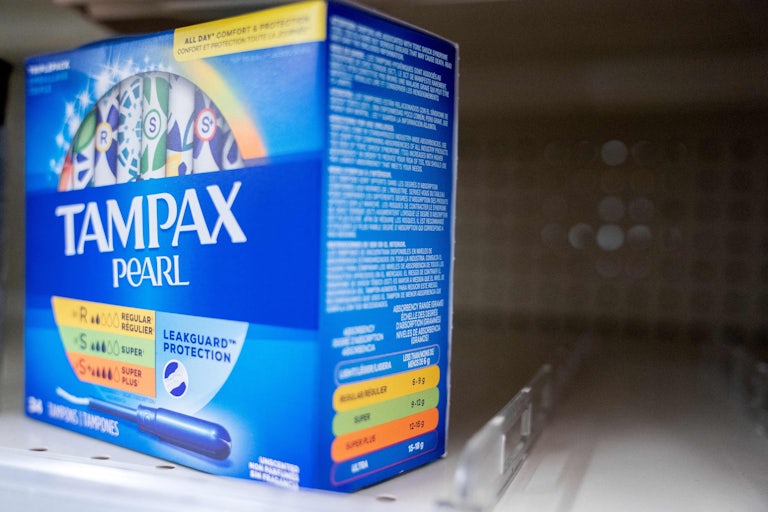 STEFANI REYNOLDS/AFP/Getty Images
Calls to boycott tampon brand Tampax went viral Tuesday on Twitter, purportedly over a controversial tweet from the company.
But a closer look reveals a transphobic backstory to the trending hashtag.
Tampax posted a joke to its official Twitter Monday that drew mixed reactions. Some followers found it hilarious, while others said it was "misogynistic" and overly sexualized women.
Many of the people objecting to the tweet began calling to "#BoycottTampax," which has popped up on Twitter before. But many Trans-Exclusionary Radical Feminists (TERFs), or cis women who are hyper-feminist except when it comes to fighting for trans women's rights, also seemed to be using Tampax's latest tweet as an excuse to revive attacks against two high-profile members of the LGBTQ community.

A tweet from June claimed that Tampax was sponsoring Dylan Mulvaney, a trans woman, and Jeffrey Marsh, who is non-binary. Many of the people who were upset by that news in June are now behind the calls to boycott Tampax.

The claim stems from a TikTok Mulvaney made in March about how she has started carrying tampons with her, even though she doesn't need them, after another woman asked her for one in a public restroom and she had none. The tweet also highlighted an Instagram campaign Marsh did in November 2020 with period product company This is L. and gender-neutral clothing brand The Phluid Project, in which Marsh mentioned that people of all genders have periods.
Mulvaney's video was not sponsored by any brand, and Tampax was not involved in Marsh's campaign, although both it and This is L. are owned by Procter & Gamble. P&G did not respond to TNR's question whether it sponsors either activist.
Still, TERFs found a way to get offended that people who need tampons were using them.
Adding more salt to the wound is the fact that the boycott calls come just two days after a gunman attacked a queer night club in Colorado Springs and killed five people, including two trans people, on the eve of Transgender Day of Remembrance.