Texas Republicans Move to Weaken Gun Laws After 8 People Were Mowed Down at a Mall
Not only are Republicans opposing gun reform, they're also moving to further loosen existing gun law.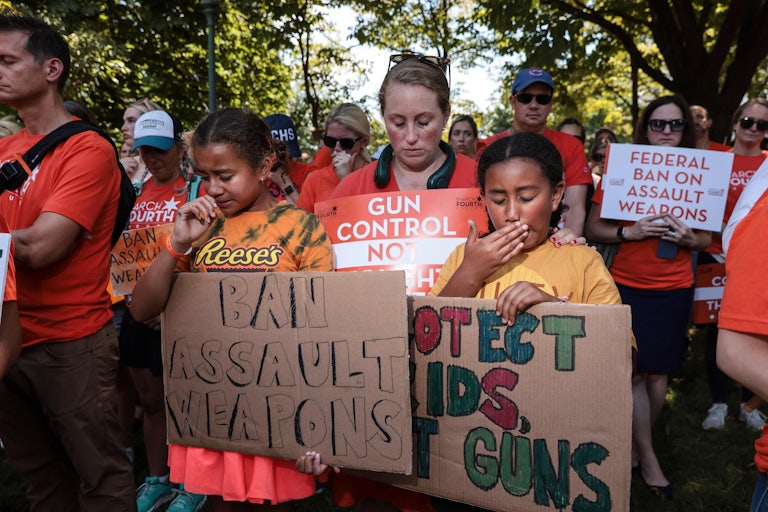 OLIVER CONTRERAS/AFP via Getty Images
Nineteen children and two teachers were killed last year at an elementary school in Uvalde, Texas. Another eight people were viciously shot at a mall last weekend. That does not include any of the other 200-some mass shootings across the country just this year—many of them in Texas. And in the context of all this, Texas Republicans are barely allowing even moderate gun reforms explicitly supported by the families of the victims in Uvalde to pass—and now they are trying to actively weaken gun laws even more.
Texas's Community Safety House Committee has advanced House Bill 2960, which rolls back existing law directing the postage of "No Firearms Allowed" notices on properties, and consequently would relax prosecution of those found violating such notices. The committee passed the bill 7–3, and the bill has been placed on the general calendar to be voted on by the entire state House.
To be clear, this is the same committee that did not advance a bill to raise the minimum age to purchase an AR-15-style rifle from 18 to 21 until concerned mothers and families of the victims of the Uvalde school shooting flooded the Capitol Monday, demanding that lawmakers push it forward. Even so, five Republicans voted against advancing it; the bill moved forward at a vote of 8–5.
What cannot be understated is the sheer culpability of these conservatives. The shootings at Uvalde and the Allen mall are just drops in Texas's bloody bucket. In 2018, a 17-year-old student killed 10 people and injured 13 more at Santa Fe High School. In 2019, two mass shootings took place in rapid succession—one by a white supremacist at an El Paso Walmart, killing 23 people and injuring another 23; another killed seven people and injured 22, including a state trooper and two police officers, in Midland and Odessa.

These and incidents involving hundreds of other victims have revealed, over and over again, how sneeringly unconcerned this party is with, perhaps, stopping the bodies from piling up. It's almost appalling, given how both Kentucky Governor Andy Beshear and Tennessee Governor Bill Lee both lost individuals they knew personally in recent mass shootings in their state; for some reason, power structures and dollar signs still somehow enrapture Republican politicians to the point they fail to imagine that a stray bullet may just hit close to their home too.
Meanwhile, people in communities like Uvalde have been brought to fend for themselves as statewide Republicans don't even pretend to advocate for them or the spirits of the loved ones they've lost until the national spotlight is on them, as it was on Monday. Even then, Republicans could not unanimously advance a bill that simply decrees that teenagers ought not be able to buy AR-15s.
In the meantime, Republicans are jumping on board to repeal even the most minute and niche gun safety policies, like the simple act of posting "No Firearms Allowed" signs.