Tennessee Gov. Says He Lost Two Friends in the Nashville Shooting, but Now Is Not the Time to Be Angry
Reminder that Bill Lee helped loosen gun laws in his state.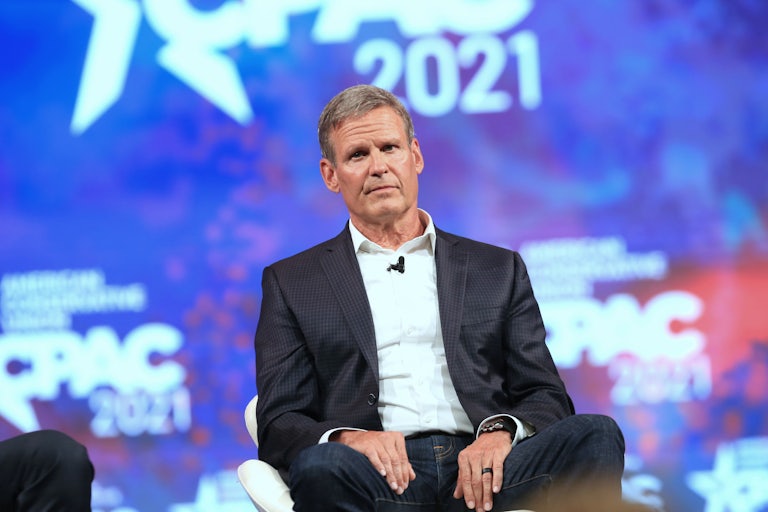 Dylan Hollingsworth/Bloomberg/Getty Images
Bill Lee doesn't have plans to change Tennessee's gun laws anytime soon, despite the fact that earlier this week, a shooter killed three children and three adults, including some of the governor's family friends.
A shooter opened fire at the Covenant School on Monday, killing at least three children and three adults and wounding several others. Two of the adults killed were close friends of Lee and his wife, the governor said in a video posted on Twitter Tuesday. One of them had planned to go to the Lees' house for dinner that night.
But Lee insisted that now is not the time for change. "I understand that there is pain; I understand the desperation to have answers, to place blame, to argue about a solution that could prevent this horrible tragedy.… There will come a time to discuss and debate policy. But this is not a time for hate or rage. That will not resolve or heal," he said
He praised school and law enforcement policies that help prepare students and staff for mass shootings—but did not point out that he helped Tennessee loosen its gun laws in the past few years, making it easier for mass shootings to happen in the first place.
Lee concluded by paraphrasing a Bible passage: "The battle is not against flesh and blood. It's not against people. The struggle is against evil itself," he said.
Except, he left something out. As Kentucky youth pastor Steven Levebvre noted, Lee skipped over that the battle is also against "the rulers, against the authorities, against the powers of this dark world."
Lee and other Tennessee Republicans are burying their heads in the sand, insisting there was nothing they could have done to stop the shooting and that there is little they can do to prevent another one. In fact, they are skating around their own culpability in helping create the circumstances that allowed the shooting to happen.
Lawmakers failed two years ago to pass a red flag law that would have prevented Monday's shooter from legally acquiring seven guns, three of which were used in the attack. In the past few years, they loosened gun restrictions and focused their energy on attacking LGBTQ rights.
Lee lost two friends, whom he said he has known for decades, in the shooting—and he still doesn't feel spurred to action.