Even Fox News Is Sick of Republicans' Dumb Investigation Into Joe Biden
"You don't actually have any facts to that point," Fox & Friends host Steve Doocy pressed.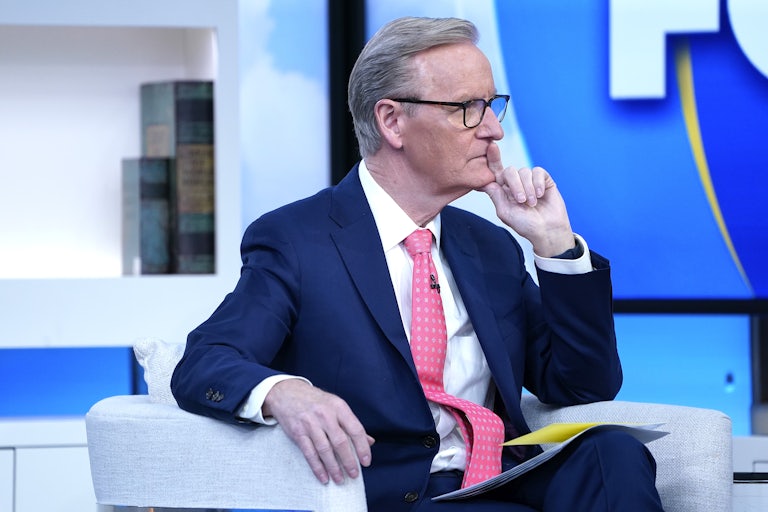 John Lamparski/Getty Images
Fox anchor Steve Doocy
Republicans have no evidence that Joe Biden was involved in shady business dealings, and even Fox News knows it.
House Republicans accused the president and his family Wednesday of engaging in business with foreign entities, but they were unable to provide any actual evidence linking Biden to any wrongdoing.
Fox & Friends host Steve Doocy pressed Representative James Comer about the nothingburger of an investigation. Comer, who chairs the House Oversight Committee, alleged in a 65-page memo that the Bidens were involved in influence peddling in Romania for two years, and claimed that Biden's son Hunter had business deals in China.
"You don't actually have any facts to that point. You've got some circumstantial evidence," Doocy said Thursday morning. "And the other thing is, of all those names, the one person who didn't profit is—there's no evidence that Joe Biden did anything illegally."
Comer gave a long, complicated explanation of how Biden was definitely involved, even though his name didn't come up anywhere in the financial documents he had subpoenaed. In fact, Comer admitted that Republicans have yet to find any proof of their accusations.
"We're at the very beginning stages of this, but in talking with the informants that we have … we know that Joe Biden was actively involved," Comer said. "We're still looking for more bank records that we believe will implicate Joe Biden's active participation in this."
Since taking control of the House of Representatives, Republicans have been obsessed with trying to dig up dirt on the Biden family, particularly Biden's son Hunter. Even though the United States has just weeks before it could default on its debt, the GOP is apparently more interested in personal vendettas than leading the country.