Republicans Have Lost Their Informant in Fake Biden Corruption Investigation
Representative James Comer admitted that he can't seem to "track down" their informant.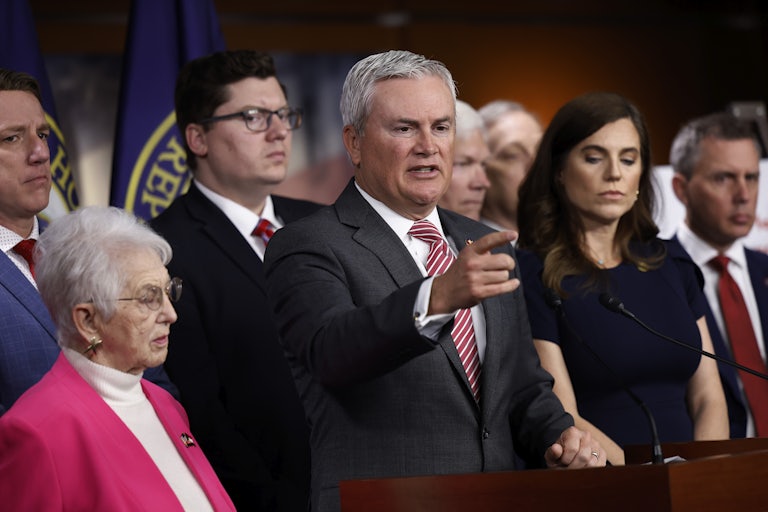 Chip Somodevilla/Getty Images
House Oversight and Accountability Committee Chairman James Comer and other Republican members of the committee
The Republicans' trumped-up investigation into Joe Biden has gone from bad to worse, as a top informant has apparently gone MIA.
House Republicans have been investigating the president and his family for months but have been unable to provide any actual evidence linking Biden to any wrongdoing.
House Oversight Committee Chair James Comer has led the charge, releasing a 65-page memo last week accusing the Bidens of influence peddling in Romania, and Biden's son Hunter of having business deals in China. All of those claims are based on information the committee says it has received from anonymous sources.
Except … one of those sources has now gone missing. "Well, unfortunately, we can't track down the informant," Comer told host Maria Bartiromo on Sunday. "We're hopeful that the informant is still there. The whistleblower knows the informant. The whistleblower is very credible."
Even Bartiromo seemed a little confused. "Hold on a second, Congressman. Did you just say that the whistleblower or the informant is now missing?" she asked.

Comer said he was "hopeful" they could find the informant again, and said that informants are "kind of in the spy business," so they could be difficult to keep track of.
Comer has repeatedly said Biden was involved in shady business dealings, but when pressed, he has always had to admit that he has no actual proof. Since releasing the memo last week, he has insisted that his informants will provide him with concrete evidence soon.
While Bartiromo seemed content to take Comer's words at face value, her colleagues have not been so forgiving. Fox & Friends host Steve Doocy called out Comer's lack of evidence last week.
"You don't actually have any facts to that point. You've got some circumstantial evidence," Doocy said Thursday morning. "And the other thing is, of all those names, the one person who didn't profit is—there's no evidence that Joe Biden did anything illegally."
And now that an informant has gone AWOL, we may never get that so-called evidence.