Ron DeSantis Short-Circuits When Asked About Dropping Poll Numbers
The Florida governor is a walking meme.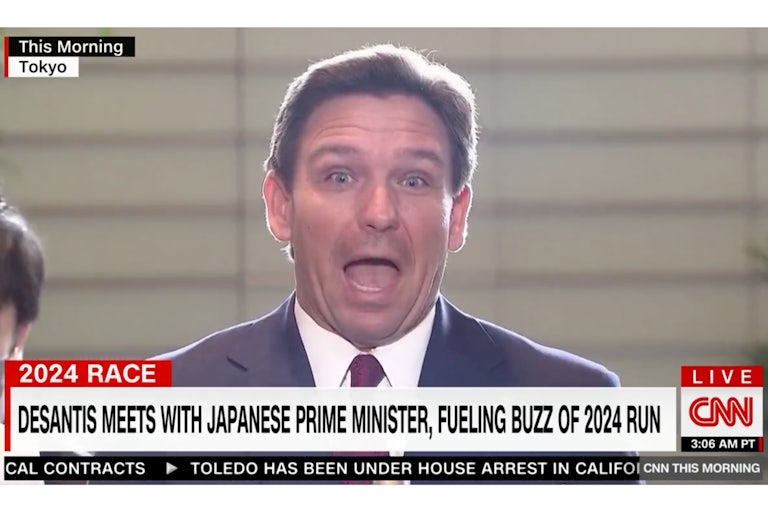 Courtesy of CNN
Ron DeSantis's costume is beginning to rip at the seams.
Ever since the Florida governor began leaning more and more into the possibility of his 2024 candidacy, he's more and more adopted mannerisms of the previous Republican president, Donald Trump: his vocal cadence, his hand motions, and his relishing of not answering questions and attacking the media. DeSantis is under the illusion that he's projecting strength and not, in fact, looking incredibly pathetic.
But the laborious efforts are beginning to wear on the not yet announced presidential hopeful. During a visit to Japan to meet with Prime Minister Fumio Kishida, the Florida governor was asked about his thoughts about polling behind Trump.
And his face seemed to be glitching, perhaps while hearing the trigger word of what his blueprint is based off of.

The comments came while the Florida governor has constantly been everywhere but Florida. While Fort Lauderdale was flooding under the weight of the rainiest day in its history, DeSantis was journeying around Ohio to sell his book. Over the past few weeks, he's visited other states and even Washington, D.C., courting Republicans and gloating about his radical agenda in Florida. It's gone incredibly poorly, as DeSantis has a meager handful of endorsements, while Trump has already secured the approval of an array of members of Congress and governors—including many members in DeSantis's own state.