Tennessee Becomes the First State to Pass a Ban on Drag Shows
The bill is so vaguely worded it could also target trans people and Pride celebrations generally.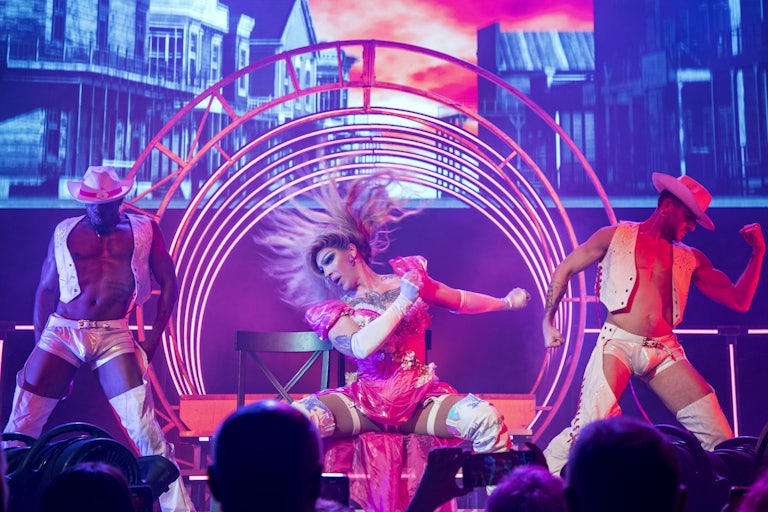 Danielle Del Valle/Getty Images
Kameron Michaels performs onstage for RuPaul's Drag Race Werq the World Tour in Nashville, Tennessee, on August 9.
Tennessee lawmakers passed the country's first ban on drag performances Thursday, part of an onslaught of bills restricting LGBTQ rights across the United States that could have much further-reaching consequences.
House Bill 9 is headed to Governor Bill Lee, who has said he will decide whether to sign the bill once it reaches his desk. If he does, the measure will go into effect on April 1, two months ahead of Pride Month.
The bill bans "male or female impersonators who provide entertainment that appeals to prurient interest," meaning of a sexual nature, either in public or if there is a minor present. The language is vague and makes no distinction between drag performers and transgender people.
When H.B. 9 was first introduced in November 2022, the ACLU of Tennessee noted that "dance, fashion, and music—essential components of a drag performance—are all protected by the First Amendment. Yet, these laws are written so broadly and vaguely that they would allow government officials to censor performers based on their own subjective viewpoints of what they deem appropriate on any given day."
"So, let's call this what it is—a malicious attempt to remove LGBTQ people from public life," the group said in a statement.
The bill's vagueness could also affect Pride celebrations, which last for the month of June. Drag performers or trans people appearing in public could be charged with felonies simply for existing.
"By passing House Bill 9, the Tennessee legislature has done nothing but spread hate, misinformation, and extremism," Human Rights Campaign legal director Sarah Warbelow said in a statement. "Drag is a longstanding, celebratory form of entertainment and a meaningful source of employment for many across the state. Yet, rather than focus on actual policy issues facing Tennesseans, politicians would rather spend their time and effort misconstruing age-appropriate performances at a library to pass as many anti-LGBTQ+ bills as they can."
It should go without saying that drag, like any performance, can be tailored to be appropriate for any audience. Seeing drag performances can actually be beneficial to younger people who are LGBTQ, because it shows them that they are not alone. More than half of LGBTQ youth struggle with depression, and 45 percent of trans kids have considered suicide, according to the HRC. But those with at least one adult in their life who accepts them are 40 percent less likely to attempt suicide.
Tennessee's bill, unfortunately, is part of a homophobic and transphobic backlash to the increasing visibility of LGBTQ people. Drag performers have become a particular target for Republicans and right-wing extremist groups, who accuse the entertainers of being pedophiles.
There are dozens of bills being moved through state legislatures across the U.S. that would ban drag performances. Florida Governor Ron DeSantis recently revoked an organization's liquor license because it hosted a drag show.