Ron DeSantis Signs Drag Ban So Extreme It Could Cancel All Pride Parades in the State
The bill is so vaguely worded that Pride in Florida this year is sure to look different.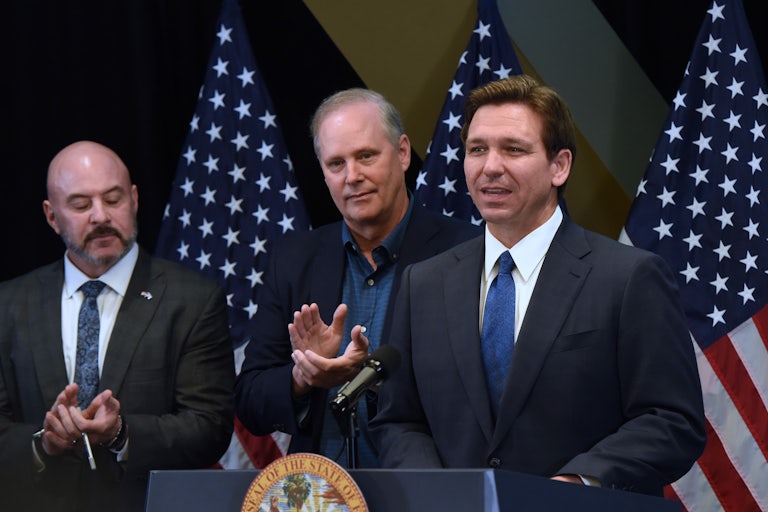 Paul Hennessy/SOPA Images/LightRocket/Getty Images
Florida Governor Ron DeSantis signed a bill Wednesday that will effectively stop all Pride parades and festivals in the state, a massive attack on LGBTQ visibility.
The new law prohibits government entities and employees from issuing permits to organizations that may hold "adult live performances" in the presence of minors. Anyone that does can be charged with a misdemeanor. The law is so vaguely worded, and the punishment so high, that at least one Pride Parade has already been canceled this year.
The measure would also ban businesses from allowing minors to attend an "adult live performance," which is defined as a show performed in front of a live audience that "depicts or simulates nudity, sexual conduct, sexual excitement, or specific sexual activities … lewd conduct, or the lewd exposure of prosthetic or imitation genitals or breasts." Any business that breaks this law will face a fine of up to $10,000 and could lose its license.
The law's supporters say that they are not targeting drag queens but instead trying to protect children. But Democratic Representative Fentrice Driskell pointed out that Florida already has laws in place to protect children.
"Even though the plain text of the bill may not say 'drag' … there's a greater context happening here, and we all know it," she said, just before the bill passed the House last month by a vote of 82–32, along party lines.
Critics have slammed the bill as being overly broad, which could have unintended consequences. Republicans admitted that the measure would prevent performances of The Rocky Horror Picture Show and the musical Hair.
But the measure will also have an intended consequence: "erasing" LGBTQ people from existence. Florida Republican Representative Randy Fine said outright that if passing the bill "means erasing a community because you have to target children, then, damn right, we ought to do it!"
Florida is now the second state to pass a law attacking drag performances, which have become a particular target for the right wing in recent years. In March, Tennessee became the first state to pass such a law, although the measure was blocked by a judge before it could go into effect on the grounds that it was overly broad and violated free speech rights.
DeSantis also signed an anti-trans bill the same day, which allows the state to remove trans kids from their families if they receive gender-affirming care. You can read more about that bill here.