Trump-Era Special Counsel Ends Probe of Russia Investigation in Total Bust
Four years of investigations, zero new charges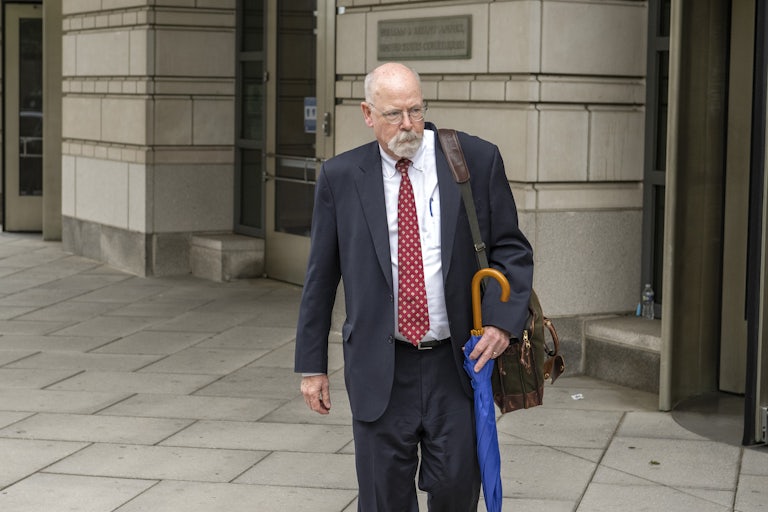 Ron Sachs/Consolidated News Pictures/Getty Images
Special Counsel John Durham
A Trump-era special counsel's four-year-long investigation into the FBI over its probe of possible ties between Russia and Donald Trump's 2016 campaign ended Monday with a whimper instead of the previously promised bang.
Special prosecutor John Durham was appointed in 2019 by then–Attorney General William Barr to look into possible misconduct by the FBI during its investigation of Trump-Russia ties. Trump promised at the time that Durham would uncover the "crime of the century."
Instead, in a more than 300-page report released Monday, Durham sharply criticized the FBI but failed to bring about the raft of criminal convictions the previous administration had expected. Durham accused the FBI of launching its investigation based on "raw, unanalyzed, and uncorroborated intelligence." He also said investigators relied on "confirmation bias" instead of considering evidence that would have cleared Trump.
Over the course of Durham's entire investigation, his team only charged three people. A former FBI lawyer pleaded guilty to altering an email the bureau cited when applying to eavesdrop on an ex-Trump campaign aide. The other two defendants, a lawyer for Hillary Clinton's campaign and an analyst for a Russian American think tank, were both acquitted of charges of lying to the FBI.
Barr appointed Durham shortly after special counsel Robert Mueller completed his investigation into allegations that Trump and Russia had colluded to rig the 2016 election. Mueller, by comparison, issued about 36 criminal charges, including for half a dozen Trump associates. He determined that Russia had intervened in the election for Trump, which the campaign welcomed, but that it had not actively colluded with Team Trump.
The FBI first began investigating the allegations of collusion in July 2016, but there were multiple revelations of flaws in the probe. Durham's own investigation dug into these mistakes, but by the time he released his report on Monday, the Justice Department had already examined those issues and the FBI had made dozens of corrective actions.
This is not the first time the Republicans have touted an investigation that turned up a whole lot of nothing. House Republicans have been investigating President Joe Biden and his family for months but have been unable to provide any actual evidence linking Biden to any wrongdoing. And Monday morning, House Oversight Committee Chair James Comer revealed that one of their top informants has gone missing.