Marjorie Taylor Greene, Who Loves Demonizing Drag Queens, Now Defends Drag-Wearing Boyfriend
The Georgia representative has built a career demonizing drag queens and queer people generally. Oh how the turntables.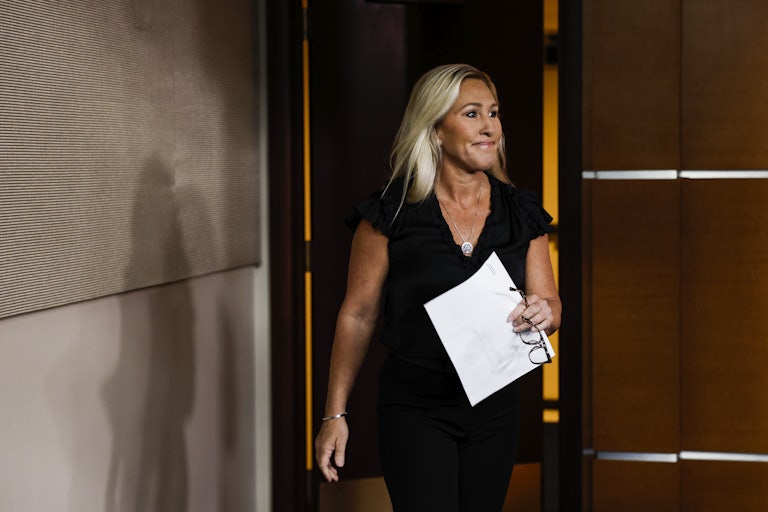 Anna Moneymaker/Getty Images
Representative Marjorie Taylor Greene, who has gone out of her way to attack drag queens, is now defending her drag-wearing boyfriend.
Greene has been dating Brian Glenn since late last year. Glenn currently works as a programming director for the conservative Right Side Broadcasting Network, but from 2013 to 2015, he was an anchor for a local Dallas, Texas, news station. A video posted to Twitter on Sunday shows him in drag for a morning segment. It is unclear when the segment originally aired.
"I'm kicking the shoes off," Glenn says in the clip, sporting a curly blonde wig, a pink dress, gloves, and a purse.
"I may keep the pantyhose on. It does feel kind of good, actually," he adds, which is blatantly untrue (just ask anyone who's had to wear pantyhose for an extended period of time).
Both Glenn and Greene have shared the video on social media, with Greene tweeting that she was "literally lol'ing."
Glenn "dressed in drag for morning news in Dallas years ago reporting on an upcoming local theatre production and the morons over at Patriot Takes think this is an attack," she said on Twitter. "The left is so stupid."
Greene has repeatedly attacked drag performances of any kind, at one point calling them "indoctrination" and saying it should be "illegal" for children to attend. She has likened supporting the LGBTQ community to grooming children, and even suggested that people who support drag queens should be considered "domestic terrorists." She and other far-right people seeking to ban drag in public insist that their efforts are to protect children.
Well, her boyfriend's news segment presumably did not include a warning for any minors who might be watching, so people under the age of 18 were likely able to see such obscene content.
The actual problem for Republicans does not seem to be drag, but who is dressed in drag. Tennessee Governor Bill Lee wore drag in high school, but he signed the country's first law banning drag performances in public (that law was blocked by a judge). Criminally indicted Representative George Santos dressed in drag in Brazil, but he has fully embraced the GOP's anti-LGBTQ stances. And now Glenn, who works for a far-right, openly Trump-supporting news network.
The issue actually at play is LGBTQ people who live their lives openly and do not fall in line with whatever Republicans deem acceptable.