Sorry Elon, No One Cares About Losing Their Blue Check Mark on Twitter
The White House, news organizations, and celebrities are all saying they have no interest in paying for verification.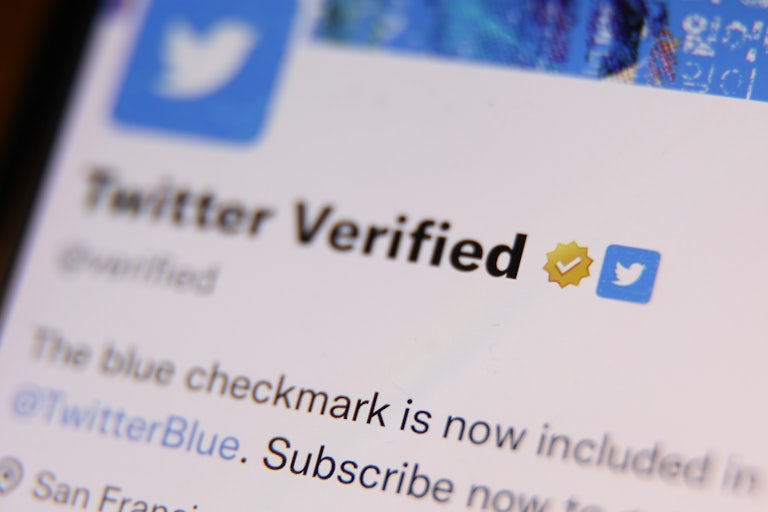 Jakub Porzycki/NurPhoto/Getty Images
On the eve of Elon Musk's plan to phase out existing verified accounts and install a new order—in which anyone can pay a monthly fee in order to get a blue check mark next to their name, as well as a series of other privileges—it seems most users are simply … not interested.
Everyone, from professional athletes to elected officials to journalists, is opting out of Twitter's attempt to fill the financial hole left gaping wide after Musk took over the social media website.

The cost for Musk's Twitter Blue scheme is $8 (or $11 through Apple's iOS) per month for individuals, while businesses and organizations in the United States would be charged $1,000 per month, plus a $50 fee for each affiliated subaccount (employees, other organizational divisions, etc.).
Musk's Twitter has tried to mitigate the slow-motion car crash. An internal document revealed Twitter is considering waiving fees for the top 500 advertisers and 10,000 most-followed organizations that were previously verified. Unfortunately, it just doesn't matter.
CNN's Oliver Darcy reported that The New York Times, the Los Angeles Times, BuzzFeed, Politico, Vox Media, The Washington Post, and CNN will all not pay for Twitter Blue services for their journalists. Most confirmed their organizations will not pay for the institutional account either.
And on Friday, Axios reported that the White House also will not pay for Twitter Blue for its staffers or for the official White House account. "It is our understanding that Twitter Blue does not provide person-level verification as a service. Thus, a blue checkmark will now simply serve as a verification that the account is a paid user," White House director of digital strategy Rob Flaherty wrote to staffers in an email.
Even star athletes like Lebron James and Patrick Mahomes have said they will not be paying for Musk's last-ditch Hail Mary.
It's all fun and games watching yet another Musk endeavor fall flat, but of course the stakes are indeed very high. One example of many came just this week, as a verified account tweeted a screenshot falsely depicting a news outlet sharing a fake quote from the father of a victim in the Nashville school shooting calling for "the end of the trans evil." And that is just a drop in the bucket of all the moderation problems Twitter has already been dealing with; Musk's overhaul of verification will escalate an ongoing disaster.