Elon Musk Is the Only One Happy About New Twitter CEO Linda Yaccarino
Linda Yaccarino, the reported new Twitter CEO, agrees with the far-right online a whole lot.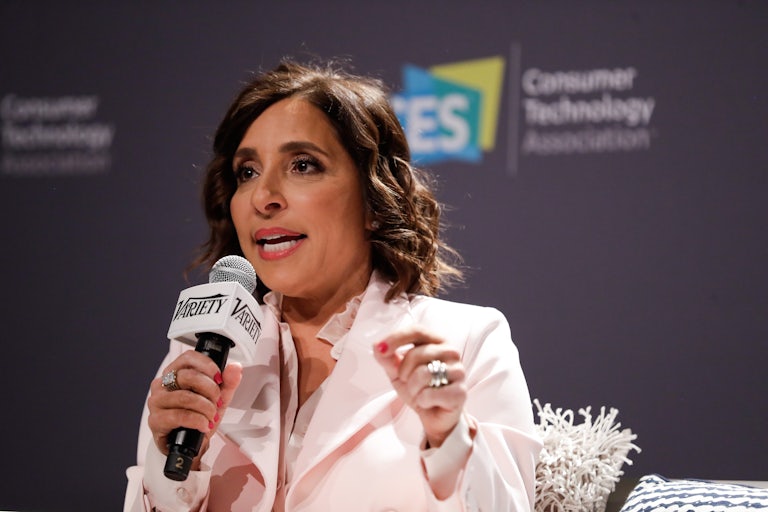 Isaac Brekken/Variety/Penske Media/Getty Images
Linda Yaccarino
Elon Musk's pick for the new Twitter CEO is perhaps as jacked-up on the conspiratorial far-right happy gas as he is.
Linda Yaccarino, the former global advertising chief for NBCUniversal and a former Trump appointee, had reportedly been in advanced talks for the role. She resigned from her role at NBC on Friday, just hours before Musk announced that she indeed would take on the job as CEO.
"Looking forward to working with Linda to transform this platform into X, the everything app," Musk tweeted, seeming to reference a new brand rehaul for Twitter.
And a cursory look through her Twitter activity reveals how complementary she would be to Musk's regime.

The likely new Twitter CEO follows just some 1,161 accounts; among them are rabid far-right conspiracy theorists and stochastic terrorists, including Chaya Raichik, Jack Posobiec, Sidney Powell, Catturd, Ron DeSantis, and Michael Shellenberger.
Of course, who one follows on Twitter doesn't necessarily indicate everything about them personally. Her Twitter likes, however, indicate that she does indeed like the content coming from these actors:
Outside of Twitter, in 2018, Trump appointed Yaccarino to serve a two-year term on the administration's council of Sports Fitness and Nutrition.
At the same time, however, some far-right consumers of this conspiratorial garbage are actually alarmed by Yaccarino's appointment, because she's an executive chair of the World Economic Forum—something Musk himself has spread suspicion toward.
These and other users are also concerned with the fact that Yaccarino encouraged people to get Covid-19 vaccines, and even that she applauded NBCUniversal management for taking steps to pursue "social justice and equality" and for progressing toward hiring "50% of women and 50% people of color."
Despite any concerns with Yaccarino having taken a vaccine or supporting corporate social justice causes, if she does indeed become Twitter's next CEO, it will be with Musk's blessing. Musk purported to be a centrist in the past, before becoming more and more reactionary in his self-made echo chamber. His fans have gladly stood by him, while he's leeched off whatever money he can come by, mainly from the online right-wing bubble. And for many of those in the blue-check army who may be upset by Yaccarino's appointment because she seems not far-right enough, Musk's word is often God's word for them anyhow—so she'll be just fine on that end.

But alas, if her Twitter activity gives any indication of what most of her more substantive beliefs are on information and truth, Twitter more broadly will not be fine.
This post has been updated with breaking news.