DeSantis Promises to Start "Slitting Throats on Day One"
Why is Ron DeSantis like this?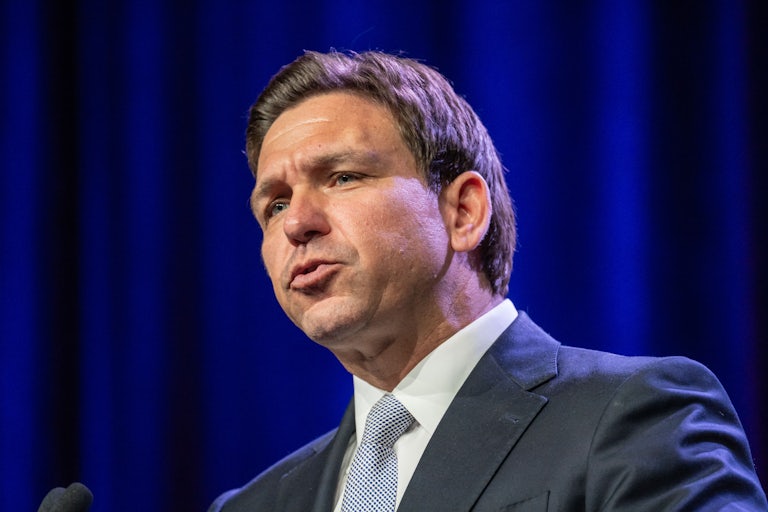 SERGIO FLORES/AFP/Getty Images
Ron DeSantis has promised to start "slitting throats on day one" if he's elected president.
"We're going to have all of these deep state people, you know, we are going to start slitting throats on day one," the Florida governor told New Hampshire voters on Sunday, during what was supposed to be a chill barbecue event.
For the most part, his message went over OK, New Hampshire Public Radio reported, but not everyone was a fan of the "slitting throats" word choice.
"If I was in charge of his P.R., I would have said, 'Don't use that terminology,'" one Republican primary voter from Portsmouth, who called himself a "Sununu Republican," told NHPR.
This isn't the first time DeSantis has used this terrifying choice of words. Last week, during an interview with the right-wing outlet Real America's Voice, DeSantis said he wanted a defense secretary who was ready to "slit some throats" and change the Defense Department's hierarchy.
"You know, they may have to slit some throats. And it's a lot harder to do that if these are people that you've trained with in the past or that you know," DeSantis said. "So we're going to have somebody out there, you know, be very firm, very strong, but they are going to make sure that we have the best people in the best positions, and there's not going to be necessarily prior relationships that would cloud that judgment."
DeSantis is in the midst of a campaign reboot, as he continues to trail Donald Trump by a wide margin. A New York Times/Siena College poll published Monday found Trump is crushing every other candidate in the race. Even when voters were given fewer options and told to imagine a two-person Republican primary race between Trump and DeSantis, 62 percent of Republican voters picked Trump, compared to just 31 percent for DeSantis.
Last week, DeSantis fired more than a third of his campaign as part of a desperate attempt to reset things.