DeSantis Campaign Unemployment Rate Skyrockets More Than 33 Percent
Ron DeSantis has laid off more than a third of his campaign staff, as he struggles to make headway in the race.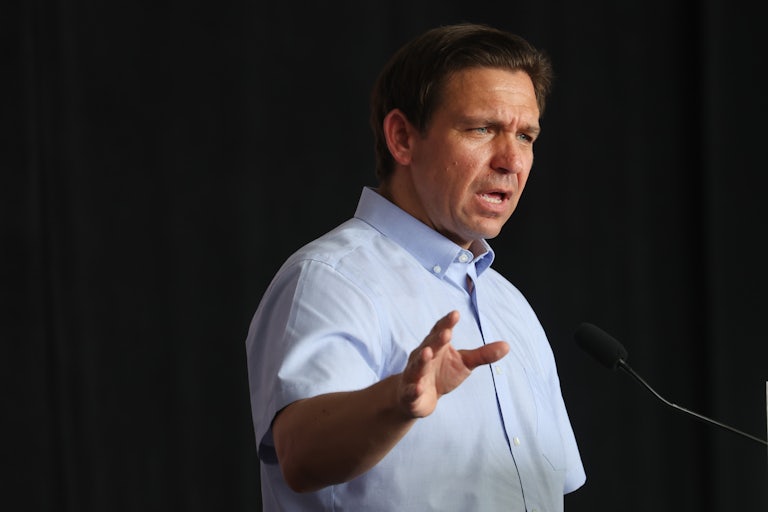 Scott Olson/Getty Images
Ron DeSantis
Things are not looking good for Team Ron DeSantis.
New reports indicate that the unemployment rate within the DeSantis campaign has skyrocketed by roughly 40 percent. Thirty-eight people, across different departments, have been let go, Politico reported Monday, as DeSantis tries to reboot an effort that has struggled desperately to make headway against his chief rival, former President Donald Trump, in the polls.
The DeSantis campaign had swelled to more than 90 staff members in its first two months—meaning these recent cuts amount to more than a third of the total head count.

The layoffs come as the campaign said it would be rebooting to a "leaner-meaner" operation to right its flailing takeoff.
DeSantis had originally sought to position himself as the most viable Republican alternative who could take on Donald Trump in 2024, even as the field of candidates kept growing.
But his numbers just haven't matched the claim that he offered the GOP base a younger and more electable Trump. Additionally, the DeSantis team has struggled to meet its fundraising expectations. Though the campaign raised $20 million in the last quarter, $3 million of that was dedicated for the general election, and small-donor Republicans just aren't contributing very much to his coffers. The campaign has also burned through nearly 40 percent of the amount it had previously raised, to the tune of about $1.5 million per week.
There's not much to show for all that money: DeSantis is still nowhere close to catching up to Trump in the polls.
A Monmouth University poll released Tuesday found that nearly seven in 10 Republican voters say Trump is either "definitely" (45 percent) or "probably" (24 percent) the strongest Republican candidate against President Joe Biden. And nearly half of Republican voters say DeSantis would be a weaker candidate than Trump.
Even Trump's two indictments (which don't include two more that are potentially on the way) aren't enough to make DeSantis rise in the polls.
Meanwhile, the DeSantis campaign keeps creating controversies for itself. Just this past weekend, a top campaign staffer reshared a video with an image of DeSantis, a Nazi symbol interposed over the Florida flag, and soldiers on the march. Earlier this month, the campaign created another bizarre and rabidly homophobic video—then tried to plant it in a fan account to make it look like it came from the outside.
And last week, the Florida governor defended his state's right to require middle schools to teach that slavery was of "personal benefit" to some enslaved people.

When he's not attacking public schools, LGBTQ people, or abortion rights, the Florida governor spends his time trying to find some other way to wage his war on woke. But none of this has paid off: not with donors, not in poll numbers. And now, his own campaign has finally been forced to reckon with it.