Trump Is Crushing DeSantis (and Every Other GOP Candidate)
A new poll shows the former president dominating the field of Republican presidential contenders.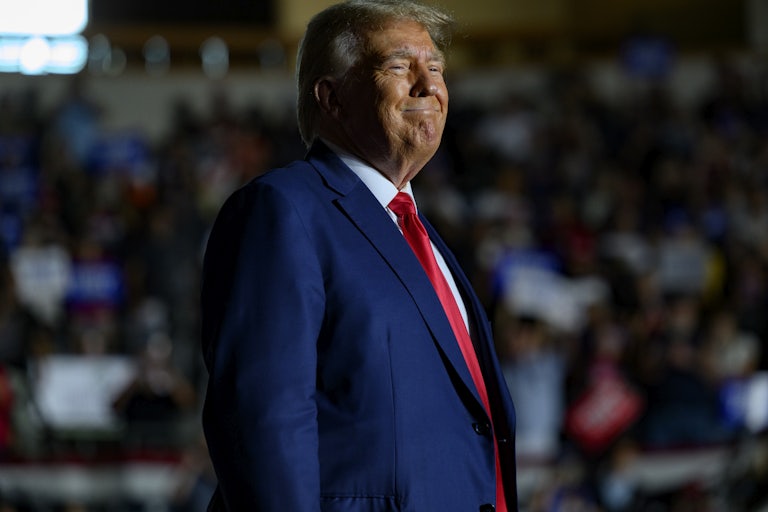 ]Jeff Swensen/Getty Images
Former President Donald Trump enters Erie Insurance Arena for a political rally while campaigning for the GOP nomination in the 2024 election on July 29, in Erie, Pennsylvania.
Despite Florida Governor Ron DeSantis's desperate efforts to declare the Republican presidential primary a two-person race, a New York Times/Siena College poll released Monday shows a decidedly one-sided competition. Former President Donald Trump is currently crushing the competition, leading the pack of candidates with support from 54 percent of Republican voters. DeSantis, by comparison, earns support from 17 percent of voters—with a bevy of also-rans also running in the low single digits.
Cut those candidates from the contest, and things don't look much better for the Florida governor: When asked who they would support if the only choices in the GOP primary were Trump and DeSantis, 62 percent of Republican voters opted for Trump, compared to 31 percent for DeSantis.
Republican voters see Trump as a stronger candidate than DeSantis: 69 percent said that Trump was a "strong leader," and 67 percent said he was able to "get things done," compared to 22 percent of GOP voters who believe the same of DeSantis. Fifty-eight percent also believe that Trump could beat President Joe Biden, as compared to 28 percent who think the same of DeSantis. On the upside for DeSantis, voters believe he is more "moral" and "likable" than Trump—however, they also think he is less "fun," with 54 percent of GOP voters saying Trump is fun, compared to just 16 percent who believe DeSantis is fun.
Despite Trump's numerous scandals, the litany of federal and state indictments that have piled up, and the fact that he encouraged an effort to overturn the 2020 election—culminating in the siege of the Capitol by his supporters on January 6, 2021—most Republican voters are unfazed by any of his alleged wrongdoings. Just 19 percent said that his actions in the wake of the 2020 election posed a serious threat to democracy, and only 17 percent believe Trump committed any serious crimes, even after he was charged by a federal grand jury on charges of mishandling classified documents. But even among those who believed he did commit serious crimes, in a head-to-head matchup with DeSantis, Trump received 22 percent support from that pool of voters.
No other Republican candidate received more than 3 percent support. Former Vice President Mike Pence, former South Carolina Governor Nikki Haley and Senator Tim Scott each reached 3 percent support, while former New Jersey Governor Chris Christie and entrepreneur Vivek Ramaswamy each earned 2 percent. Although Scott has been steadily climbing in some polls, it appears he still has a ways to go before he is considered even remotely competitive with DeSantis, much less Trump.