Here's the Video of Boebert Getting Kicked Out of Beetlejuice for Being a Nuisance
The Colorado representative flipped off security as she was escorted out of the musical.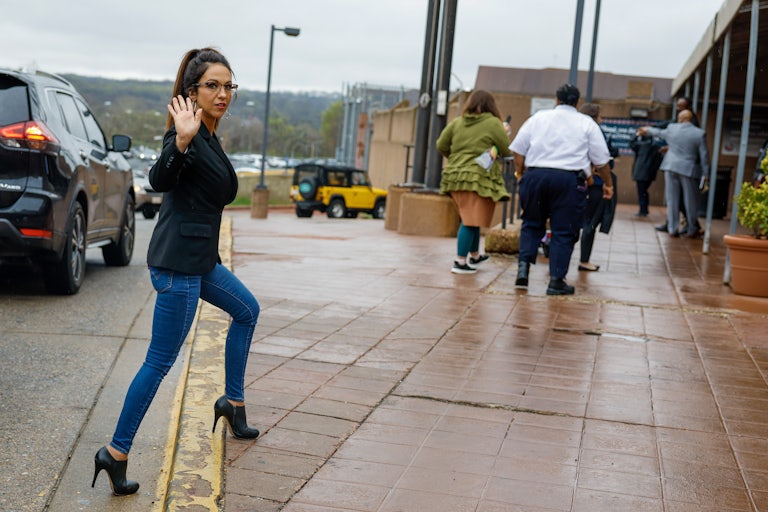 Tasos Katopodis/Getty Images for Congressional Integrity Project
Representative Lauren Boebert was escorted out of a theater in Denver on Sunday for "causing a disturbance" during the performance—and now we have the video footage.
Employees at the Buell Theatre asked two patrons to leave the evening performance of Beetlejuice after their behavior sparked three complaints from other attendees. An incident report says the pair were vaping, singing along, recording the show, and generally disrupting the performance, The Denver Post reported Tuesday.
While the venue's report did not name Boebert or identify the person she was with, her campaign office confirmed she was escorted from the show. Security footage from inside the Buell shows venue security officials asking Boebert and a man to leave the show and then escorting them out of the theater.
It is not clear who the man with Boebert is. She filed for divorce from her husband earlier this year.
In the video, Boebert is seen initially refusing to leave her seat. One of the ushers had to threaten to call city police before the pair agreed to leave, according to the venue's incident report.
Police were called and stayed in the theater lobby until Boebert and her companion had left. While they were being escorted out, the pair told employees "stuff like 'do you know who I am,' 'I am on the board' [and] 'I will be contacting the mayor,'" the report said. The video also shows Boebert giving the finger to security as she is being escorted out.
Boebert's campaign manager confirmed that the representative had been asked to leave the show, but he denied that she had been vaping. He also confirmed that Boebert had used her phone to take a photo of the performance but said she didn't know that wasn't allowed. Typically, theaters announce before shows begin that photos and video of any kind are prohibited.