Matt Gaetz Votes for Donald Trump for House Speaker in Sign That This Will Never End
Gaetz is one of 19 Republicans who have voted against Kevin McCarthy every round.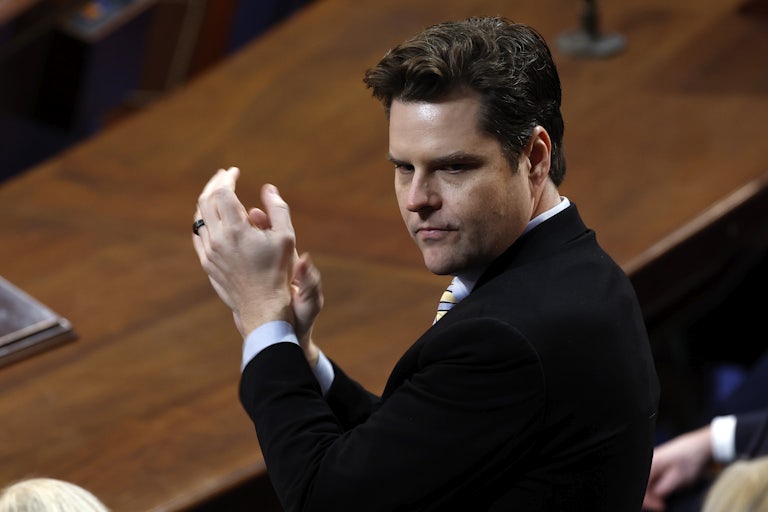 Anna Moneymaker/Getty Images
In a sign that Republicans are definitely taking this whole thing seriously, Matt Gaetz threw everyone a curveball and voted for Donald Trump for House speaker on Thursday.
During the seventh vote, which speaker hopeful Kevin McCarthy had already lost, Gaetz called out a vote for "Donald John Trump." Trump, for the record, still backs McCarthy, was never nominated for House speaker, and doesn't have a serious chance of winning. Gaetz was the only one to vote for him.
Gaetz is one of 19 Republicans who have remained staunchly anti-McCarthy, although they previously were united behind a challenger candidate, first Jim Jordan and then Byron Donalds.
Gaetz has previously floated the idea of Speaker Trump. If he and his party did agree to vote Trump into speakership, the move would be incredibly unprecedented but not technically forbidden. If he became speaker, one major concern is that Trump would have outsize influence on what legislation comes to the floor.
Legislative power has become fairly centralized in the House speaker, and a Speaker Trump could decide whether bills to keep the government open or raise the debt ceiling ever reach debate.
Fortunately, Gaetz seems alone in his sudden renewed conviction to hand Trump the gavel, with the rest of the House voting for McCarthy, Donald, or Hakeem Jeffries—who has consistently won the most votes every time.