Bankman-Fried Considered Paying Trump to Not Run for President
Sam Bankman-Fried, founder of FTX, debated paying Donald Trump a hefty sum to not run in 2024.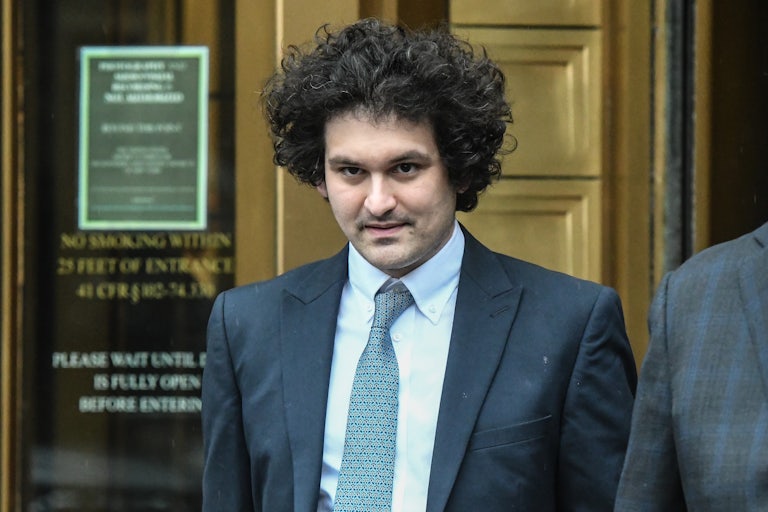 Stephanie Keith/Bloomberg
Sam Bankman-Fried, the disgraced founder of now-defunct cryptocurrency exchange FTX, considered paying Donald Trump $5 billion not to run for president in 2024, a new book reveals.
Bankman-Fried, referred to as SBF, founded FTX in 2019. The crypto exchange rapidly accumulated value, making him a billionaire, only to crash spectacularly in 2022. The Securities and Exchange Commission has since charged SBF with multiple counts of fraud. But before that, SBF was a massive political donor—and apparently had no qualms about wielding that influence.
In a new book about SBF, author Michael Lewis describes how the crypto bro believed he could solve existential issues, including threats to U.S. democracy. "He saw [Donald] Trump trying to undermine the democracy, and he thought, 'Trump … belongs on the list of existential risks,'" Lewis told 60 Minutes, in an interview that aired Sunday.
SBF offered to pay Trump not to run for president in 2024. Trump's team allegedly told him it would cost $5 billion, although it is unclear whether that amount came from Trump himself.
"The question Sam had was not just, 'Is $5 billion enough to pay Trump not to run?' but 'Was it legal?'" Lewis explained.
To try to counter Trump, SBF also met with Senate Republican leader Mitch McConnell in 2022 to identify supposedly pro-democracy Republican candidates, and donated millions of dollars to support them. Neither McConnell nor Trump responded to 60 Minutes' request to confirm Lewis's reporting.
It's unclear whether paying Trump not to run is illegal. PBS reported in 2016 that it depends on how the money is exchanged, for instance whether it's routed through external parties (illegal) or just an offer to help pay off debt from an unwinnable campaign (feels wrong but does happen).
But SBF should have checked himself before working with McConnell too. The Kentucky Republican may say he is pro-democracy, but he gladly backed every terrible policy Trump pushed while in office. McConnell also took advantage of Trump to stack the Supreme Court.
Ultimately, there was no guarantee that Trump, McConnell, or any of the Republicans SBF backed would act in good faith. They might have just taken his money and run—straight into power.