Trump's Lawyer May Ask for Mistrial Because of … the Law Clerk?
Donald Trump's attorney is threatening a new move in the New York fraud trial.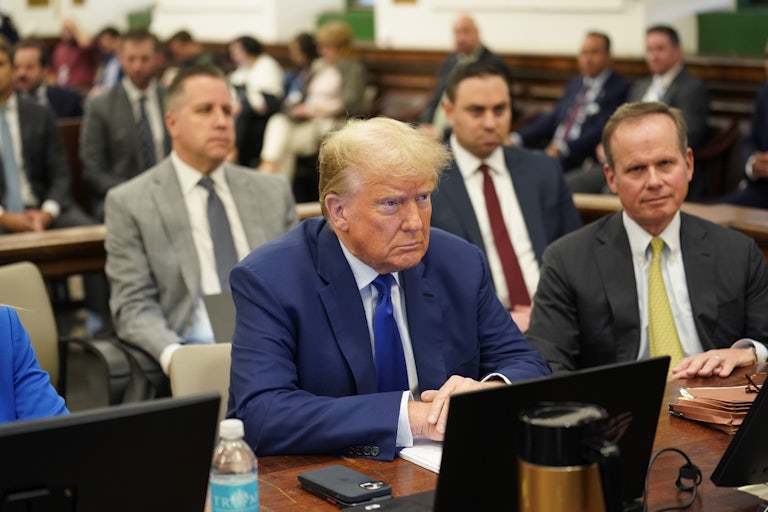 Seth Wenig/Pool/Getty Images
Trump attorney Christopher Kise hasn't given up on the possibility of having the former president's New York bank fraud trial thrown out.
Kise's new strategy seems to be threatening to have the case declared a mistrial over complaints—mostly stemming from Trump—that New York Supreme Court Justice Arthur Engoron's law clerk is biased, reported Forbes.

At the end of the trial day on Thursday, Kise raised objections to note-passing between the judge and his legal aide, whom Trump's attorneys have referred to as a "secretary," implying that she was "co-judging" the trial. That was enough to set off Engoron, who pounded on his bench while threatening to expand the gag order against the former president to his entire legal team in light of the remarks.
"Sometimes I think there may be a bit of misogyny in the fact that you keep referring to my female principal law clerk," Engoron thundered. "If there is any further reference to anyone on my staff—and I don't have a big staff, I have about three people—I will consider expanding the gag order to include the attorneys, including yourself."

Kise outright dismissed the allegation on the basis that he's "happily married" with a 17-year-old daughter.
Come Friday morning, however, Kise was back to reiterating his explosive remarks.
"The entire country, if not the world, is watching this proceeding," Kise said, according to The Daily Beast. "And the U.S. heretofore has been a model for integrity and impartiality in the judicial system, since its founding. Nothing in here should create any appearance that the adherence to those principles has wavered.… Yes, as a judge you're entitled to receive [assistance], but from someone who has potentially demonstrable bias … and the manner in which that has taken place, we at least have to make a record."
The renewed effort comes a day after Eric Trump stumbled in the family's fraud trial, admitting that he knew of the Trump Organization's statement of financial condition as far back as 2013, directly contradicting his deposition.
Courtroom tensions have been strained since the very beginning of the trial, when Trump spread a false rumor online that Engoron's principal law clerk, Allison Greenfield, was dating Senate Majority Leader Chuck Schumer. Trump also shared Greenfield's Instagram details on Truth Social, effectively ushering a scourge of far-right sympathizers onto her social media accounts. Since then, he has fussed that the judge's clerk is "partisan" and "biased."
So far, Trump has violated his gag order twice to the tune of a collective $15,000 in fines. Engoron has already ruled that Trump and his sons committed fraud and has stripped the Trump Organization of its business certificates.