Mary Trump Brilliantly Drags Her Uncle After New York Fraud Ruling
Donald Trump has been found liable for fraud—and Mary Trump is celebrating.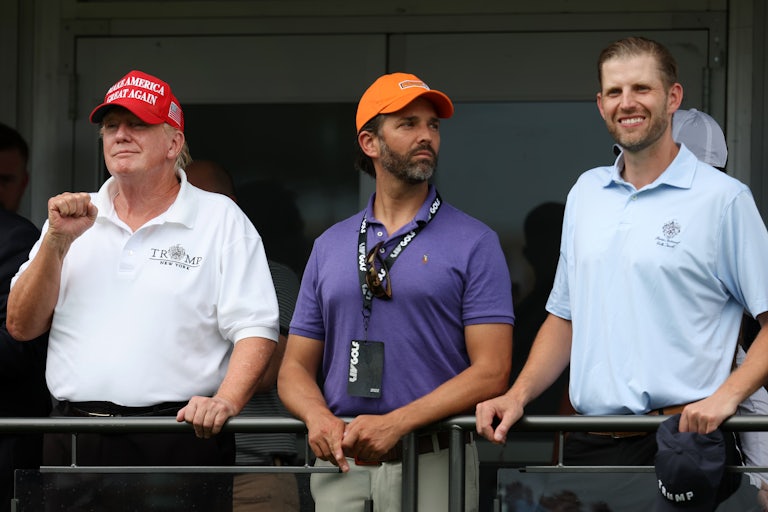 Jonathan Ferrey/LIV Golf/Getty Images
Donald Trump, Donald Trump Jr., and Eric Trump
Mary Trump marked her uncle Donald Trump being found liable for fraud by listing all of his historic accomplishments.
New York state Supreme Court Judge Arthur Engoron ruled Tuesday that Donald Trump had committed business fraud and ordered all his New York business certificates be canceled. This makes it nearly impossible to do business in New York and could effectively kill the Trump Organization as it exists today.
Mary Trump, who has contributed to The New Republic, took to X (formerly Twitter) shortly afterward to point out just how significant the ruling is. Donald Trump is now the first former president to be impeached twice, accused of inciting an insurrection, indicted, found liable for sexual assault, and now found liable for fraud.
"For the victims of Donald, this is finally some vindication. It's been a long time coming, but after everything Donald has put this country through, WE HAVE PREVAILED," she wrote.
"Let's take a minute to celebrate—we've all earned it."
New York Attorney General Letitia James sued Donald Trump and the Trump Organization in September 2022 for business fraud. She is seeking a penalty of $250 million. Engoron issued a partial summary judgment on Tuesday that determined the thrust of James's case is true and that a trial is not necessary to find Trump liable.
Engoron ruled that the business certificates for "any entity controlled or beneficially owned" by Trump, his sons Donald Jr. and Eric, longtime Trump Organization chief financial officer Allen Weisselberg, and Trump Organization executive Jeffrey McConney must be canceled.
He gave the men 10 days to come up with three potential independent candidates to handle the dissolution of all related businesses. Engoron also fined Trump's lawyers $7,500 each for repeating arguments he had previously dismissed.
Donald Trump has denied his business practices were fraudulent and, after being found liable, tried to blame James and Engoron for being politically biased.
"It is a POLITICALLY MOTIVATED WITCH HUNT by a Racist Attorney General, and a Deranged, Trump Hating Judge," he wrote on Truth Social. "It is ELECTION INTERFERENCE at a level never seen before."
Says the man indicted on both the state and federal level for trying to overturn the 2020 election.