Actually, White Nationalists Are Racists, Tuberville Now Says
The acknowledgement comes after the Alabama senator insisted that white nationalism was a matter of "opinion."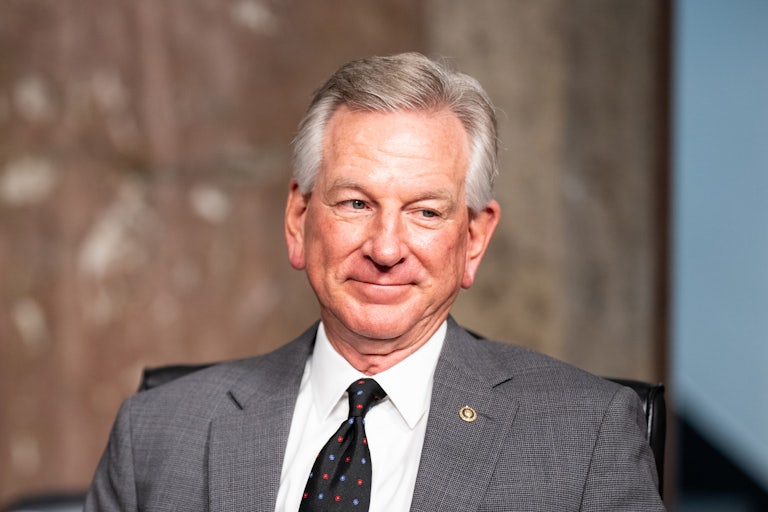 Bill Clark/CQ-Roll Call, Inc via Getty Images
Sen. Tommy Tuberville, R-Ala.
After significant media scrutiny, Senator Tommy Tuberville has acknowledged the connection between white nationalism and racism.
"White nationalists are racists," Tuberville told reporters at the Capitol on Tuesday afternoon. Although this may appear to be a simple admission, as white nationalists by definition believe that white people are inherently superior, Tuberville had struggled to reach this conclusion.
The Republican from Alabama told CNN anchor Kaitlan Collins on Monday that white nationalism "is just a name that's been given," appearing to conflate white supremacist beliefs with simply being white. When Collins informed Tuberville that "a white nationalist is a racist," Tuberville replied: "Well, that's your opinion."
On Tuesday morning, Tuberville said "I'm totally against racism," but indicated that he did not see the connection between white nationalism and racism.
"If Democrats want to say that white nationalists are racist, I'm totally against that too," Tuberville told ABC News' Rachel Scott. When Scott pressed him on whether he believed white nationalists are racist, Tuberville responded: "Yes, if that's what a racist is, yes."
On Tuesday, Democrats slammed Tuberville for his comments, with Majority Leader Chuck Schumer calling on the Alabama Republican to apologize. "No, he needs to apologize," Tuberville responded.

Senator Raphael Warnock also called on Tuberville to apologize and "change course." He told reporters: "White nationalism is racism, by definition. It's not a matter of opinion. And for the senator to play games with this is dangerous."

Meanwhile, other Republican senators reiterated that they think racism and white nationalism are bad.
"White supremacy and racism have absolutely no place in our country, period," Senator Katie Britt, Tuberville's colleague from Alabama, told reporters. Senate Minority Leader Mitch McConnell said Tuesday that "white supremacy is simply unacceptable in our military and in our entire country."
This was not Tuberville's first time obscuring the connection between white nationalism and racism. In May, he said that he believed white nationalists should not be prevented from serving in the military.
"I call them Americans," Tuberville said then, arguing that military readiness in the U.S. was lacking because "Democrats are attacking our military, saying we need to get out the white extremists, the white nationalists, people that don't believe in our agenda."