Trump's Idiot Lawyer Just Got Himself a Gag Order in Fraud Trial
Donald Trump's legal team is really fumbling this case.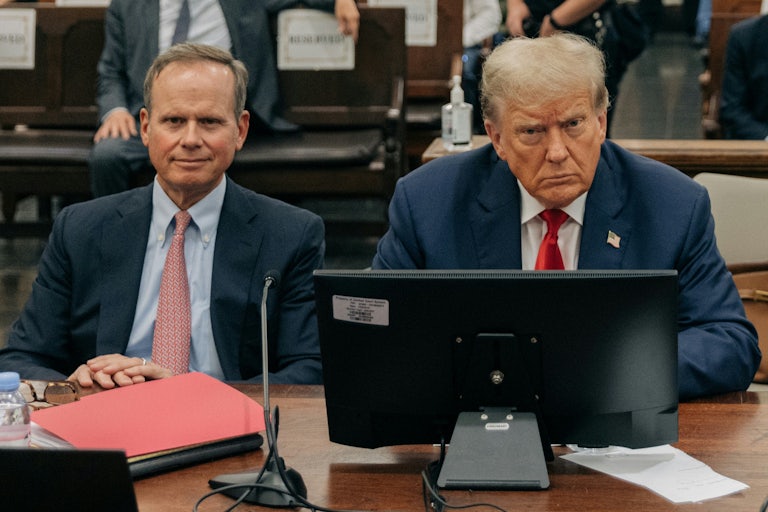 JEENAH MOON/POOL/AFP/Getty Images
Lawyer Christopher Kise looks on as Donald Trump attends his civil fraud trial in New York.
New York Supreme Court Justice Arthur Engoron has had enough, apparently.
The gag order silencing Donald Trump in the $250 million bank fraud trial is now extended to Trump's entire legal team, according to a judge's order issued Friday.
In his written order, Engoron banned Trump's attorneys from commenting on his courtroom staff.
"Since the commencement of this bench trial, my chambers have been inundated with hundreds of harassing and threatening phone calls, voicemails, emails, letters, and packages. The First Amendment right of defendants and their attorneys to comment on my staff is far and away outweighed by the need to protect them from threats and physical harm," Engoron wrote in the supplemental gag order, noting that he has an "unfettered right" to consult with his staff throughout the trial.
Violating the new order would come with "serious sanctions," he warned.
The expansion comes mere hours after Trump attorney Christopher Kise threatened to have the case declared a mistrial over note-passing between the judge and his top legal aide—an eyebrow-raising threat that came after Eric Trump effectively admitted to lying in his deposition.
Courtroom tensions have been strained since the very beginning of the trial, when Trump spread a false rumor online that Engoron's principal law clerk, Allison Greenfield, was dating Senate Majority Leader Chuck Schumer. Trump also shared Greenfield's Instagram details on Truth Social, effectively ushering a scourge of far-right sympathizers onto her social media accounts. Since then, he has fussed that the judge's clerk is "partisan" and "biased."
So far, Trump has violated his gag order twice to the tune of a collective $15,000 in fines. Engoron has already ruled that Trump and his sons committed fraud and has stripped the Trump Organization of its business certificates.