This Jenna Ellis Testimony Could Be the Writing on the Wall for Trump
New video shows Donald Trump's former lawyer blaming him entirely for the attempted overthrow of the 2020 election.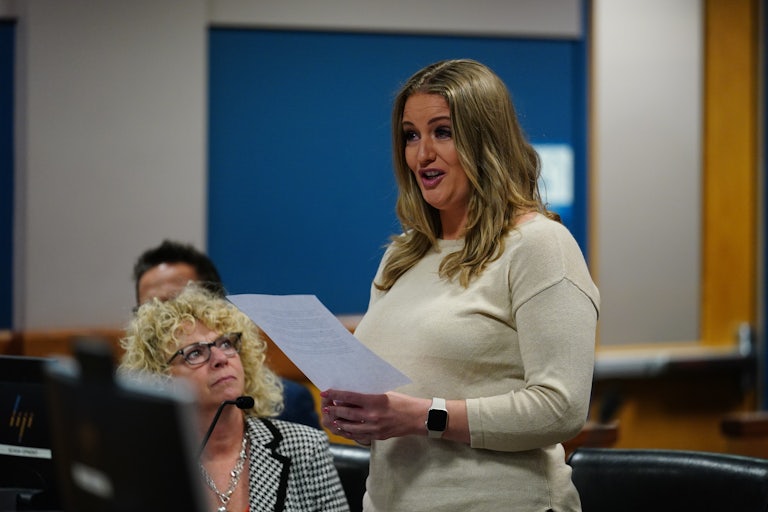 John Bazemore/Pool/Getty Images
One of Donald Trump's former attorneys told Georgia prosecutors that Trump knew he had lost the 2020 election but was simply "not going to leave" the White House, testimony that could signal his death knell in the Fulton County case.
Jenna Ellis struck a plea deal with Fulton County prosecutors in late October, agreeing to testify against Trump in exchange for a lighter sentence. ABC News managed to acquire footage of her testimony, which it published Monday evening.
The video footage shows Ellis describing how senior Trump aide Dan Scavino told her during the 2020 White House Christmas party that "the boss" intended to simply stay in office. Ellis explained that everyone knew "the boss" meant Trump.
Ellis said she pointed out that Trump had lost the election and they had lost all of their attempts to challenge the result in court. Scavino replied, "Well, we don't care, and we're not going to leave."
"And I said, 'What do you mean?' And he said, 'Well, the boss … is not going to leave under any circumstances. We are just going to stay in power,'" Ellis said.
"And I said to him, 'Well, it doesn't quite work that way, you realize?' And he said, 'We don't care.'"
ABC also obtained footage of former Trump lawyer Sidney Powell's testimony. Powell, who claims she never actually worked for Trump, struck a plea deal with Georgia prosecutors in mid-October.
In her testimony, she describes being in frequent contact with Trump as she worked to seize voting machines nationwide. Powell also "reiterated the false assertion that Trump won the election—but acknowledged in the video that she didn't know much about election law to begin with," ABC reported.
Trump was charged with felony racketeering in Georgia for trying to overturn the state's 2020 election results. He pleaded not guilty to all 13 charges. A big part of his defense is that he truly believed he won the election and was acting based on legal advice.
But Ellis's testimony could prove to be his undoing. Neal Katyal, the former principal deputy solicitor general of the United States, said it was significant that Ellis's conversation with Scavino took place after all of Trump's election challenge cases were rejected, including by the Supreme Court.
"This evidence goes to criminal intent that Donald Trump wasn't thinking about whether he won or lost, he was just going to stay in power no matter what," Katyal said Monday night on MSNBC.
"All of this together paints a really damaging picture for Donald Trump."