Samuel Alito's Tacky Defense on Why He Ruled on Case From Billionaire Fishing Pal
The Supreme Court justice accepted a luxury vacation from a Republican megadonor, didn't disclose it, and then ruled on one of his cases.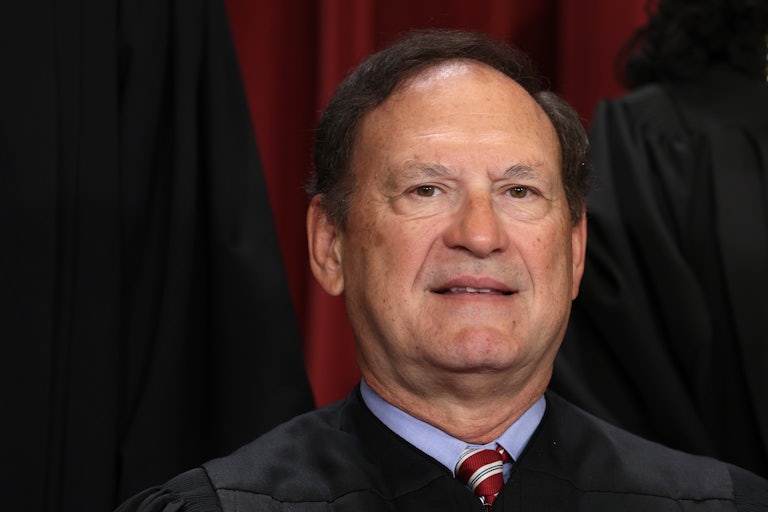 Alex Wong/Getty Images
Supreme Court Associate Justice Samuel Alito
Samuel Alito is the latest Supreme Court justice to come under fire for allegedly questionable ethics decisions, and his reasoning behind them is truly awful.
Alito was gifted a luxury vacation in 2008 that included flying on Republican billionaire megadonor Paul Singer's private jet to Alaska, where they stayed in a fishing lodge that cost $1,000 a night, ProPublica reported late Tuesday. Right-wing activist (and then-head of the Federalist Society) Leonard Leo helped organize the trip, and also attended. Alito did not list the vacation on his annual financial disclosure statement.
The year before, Singer's hedge fund had submitted its first request that the Supreme Court intervene in a business lawsuit. In 2001, the fund had purchased Argentina's federal debt at a steep discount. Years later, after Argentina recovered from an economic crash, the hedge fund wanted the Argentine government to pay it back in full.
Singer first asked the Supreme Court to weigh in in 2007, the year before he took Alito on vacation. After the trip, the fund came before the court at least 10 times for the same case. Singer's involvement was heavily documented in the press. The high court agreed to resolve the issue in 2014. Alito did not recuse himself, instead joining the 7–1 majority in Singer's favor, earning the hedge fund a $2.4 billion payout.
And Alito himself confirmed everything.
Seeking to preempt outcry, Alito published an op-ed in The Wall Street Journal on Tuesday—just hours before ProPublica published its report. His explanation for why he neither recused himself nor reported the trip was essentially, "I didn't know I had to."
"I had no obligation to recuse in any of the cases that ProPublica cites. First, even if I had been aware of Mr. Singer's connection to the entities involved in those cases, recusal would not have been required or appropriate," Alito wrote, arguing that he and Singer were not personally close, and so he could be considered unbiased.
But beyond that, "when I reviewed the cases in question to determine whether I was required to recuse, I was not aware and had no good reason to be aware that Mr. Singer had an interest in any party." Again, Singer's involvement was widely reported.
Alito said he did not report the Alaska trip because "until a few months ago," justices did not report accommodations or transportation for social events. (This is not true. ProPublica found at least six other examples of justices disclosing gifts of travel on private jets.)

Alito also said that he was really doing the government a favor by taking Singer's private jet. The trip had already been planned before Alito was invited, and "I was asked whether I would like to fly there in a seat that, as far as I am aware, would have otherwise been vacant," Alito said. "Had I taken commercial flights, that would have imposed a substantial cost and inconvenience on the deputy U.S. Marshals who would have been required for security reasons to assist me."
Not only is this terrible logic all around, but Alito also fails to mention the reason that financial disclosure rules changed a few months ago: ProPublica began releasing reports on Justice Clarence Thomas's relationship with another Republican megadonor, Harlan Crow.
Thomas has received hundreds of thousands of dollars' worth of gifts from the Nazi memorabilia–collecting billionaire. These include luxurious island-hopping vacations, tuition payments for Thomas's grandnephew's private school education, and even the purchase of Thomas's family property, where the justice's mother still lives.
If Alito's shoddy defense of "we didn't have to report it" is to be believed, we can expect more reports like this soon.
The Supreme Court has operated since its creation without a formal code of ethics, and largely without supervision. As more reports of shady dealings come to light, it's no wonder that public trust in the institution is waning fast.