This Ripped-Up Note Could Help Jack Smith Take Down Donald Trump
This note is how Jack Smith can prove Donald Trump's intent.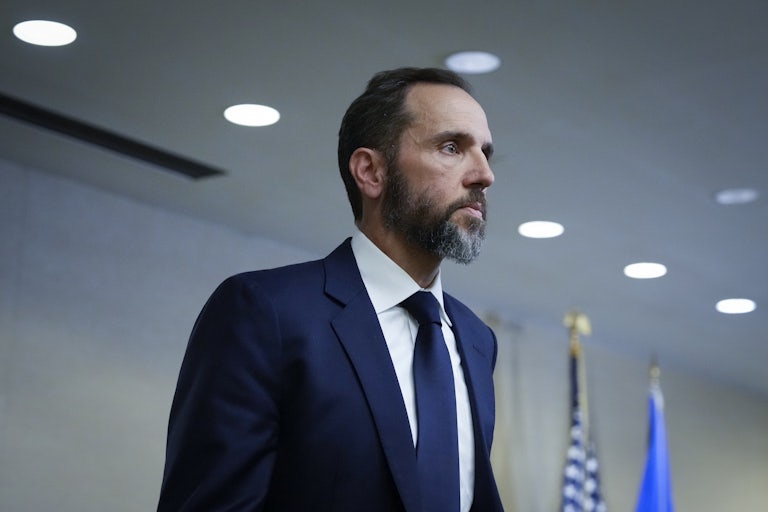 Drew Angerer/Getty Images
Special counsel Jack Smith
A former Justice Department official believes that a note torn up by Donald Trump before the January 6, 2021, insurrection "absolutely" proves the former president's intent to overthrow the 2020 presidential election results.
In the weeks immediately preceding the January 6 insurrection, Trump's first national security adviser, Michael Flynn, took to Newsmax, claiming that Trump could "take military capabilities" and "rerun an election" in key swing states that he lost.
But much to Trump's chagrin, the military didn't see it that way.

"There's no role for the U.S. military in determining the outcome of an American election," read a joint statement issued by Army Secretary Ryan McCarthy and Chief of Staff of the Army James McConville.
Personnel Chief John McEntee, tasked with rooting out obstructive staffers, then passed a note along to Trump.
"Chris Miller spoke to both of them and anticipates no more statements coming out," McEntee wrote, referring to the administration's defense secretary. "(If another happens, he will fire them)."
Hours later, Trump would tweet a call to action to his supporters, asking them to join him in D.C. on January 6.
"Big protest in D.C. on January 6," he posted in late December. "Be there, will be wild!"
McEntee's note, torn up by the former president but reconstructed, was collected as part of the House January 6 Committee's investigation and now appears in the pages of ABC News journalist Jonathan Karl's latest book, Tired of Winning: Donald Trump and the End of the Grand Old Party.
"Doesn't that get right at his intent of what he wanted them to do?" asked MSNBC's Nicolle Wallace.

"Absolutely," responded Andrew Weissmann, an attorney and former official at the Justice Department.
"My general experience when I was in the government is that the military is incredibly law-abiding and really stands for the rule of law," said Weissmann.
"As much as you think of it as a military organization with a hierarchy, they are also trained that they do not violate the Constitution. And when there's an invalid order, they know that they cannot follow it because the Constitution comes first," Weissmann noted, adding that the note is another example of Trump "brushing up" against a "guardrail."
That detail could be key to special counsel Jack Smith's case against the former president, in which Trump is charged with four felonies for disrupting Congress's certification of the Electoral College results, conspiring to defraud the United States, and depriving U.S. citizens' right to vote.