Trump Allies Are Creating an Army of Loyalists to Implement His Every Whim
Donald Trump's allies have a dangerous plan to make sure he can do whatever he wants as president.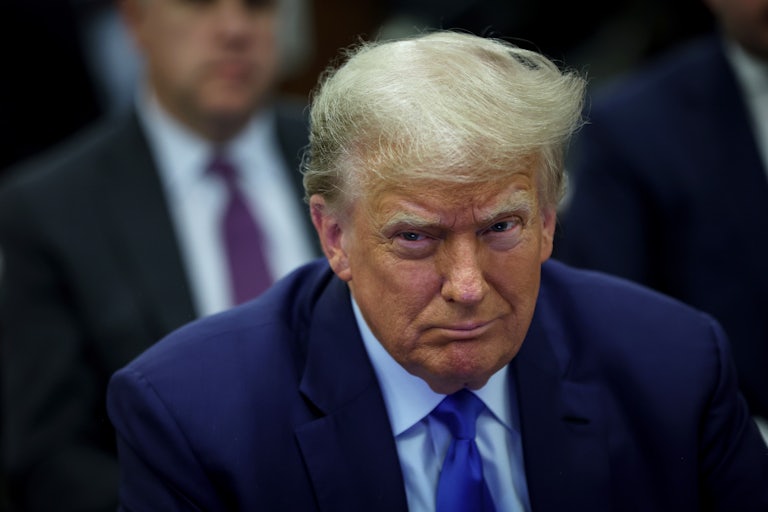 Mike Segar/Pool/Getty Images
Donald Trump's allies are already working overtime to create an army of tens of thousands of Trump loyalists who they can install at every level of government should he win the presidential election.
The consolidated effort attempts to block Republican moderates from weighing in on Trump's decisions in a potential second presidency like they did in the early days of his first, allowing an echo chamber of the most extreme voices in U.S. politics.
Allies are looking to install as many as 54,000 pre-vetted Trump loyalists in the executive branch while purging anyone who dissents from the new administration, reported Axios.
The massive political project, orchestrated by the Heritage Foundation under the banner Project 2025, has already collected more than 4,000 résumés, though the process is more focused on political philosophy than experience or other credentials, the outlet reported.
"Never before has the entire movement ... banded together to construct a comprehensive plan to deconstruct the out-of-touch and weaponized administrative state," Project 2025's director, Paul Dans, told Axios.
Trump will use this army to implement his every whim. That includes using the Justice Department to target his political enemies and unleashing a new set of extreme anti-immigration policies, like setting up deportation camps for undocumented immigrants.
Also behind the effort are Stephen Miller and John McEntee, both of whom advised Trump during his last presidency and are expected to play key roles should Trump reclaim the Oval Office. McEntee, in particular, has prior experience rooting out obstructive staffers—in 2020, he was appointed to sniff out those working against Trump's agenda, as Trump's personnel chief.
Earlier this month, Trump allies made it clear they were cutting ties with the Federalist Society, which staffed most of the hard-line, conservative legal advisers during his first term. Trump allegedly wasn't satisfied with their brand of politics, however, and was left frustrated by their objections to harsher immigration policies and Trump's bid for a tighter grip on the Justice Department, reported The New York Times.