Mike Johnson's New Chief of Staff Has Ties to a Dangerous Far-Right Group
Ruth Ward, the new House speaker's chief of staff, may be more extreme than her boss.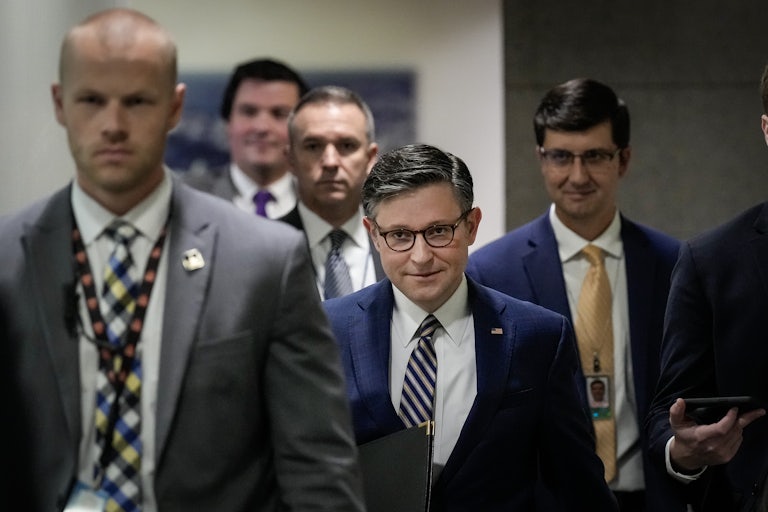 Drew Angerer/Getty Images
House Speaker Mike Johnson has hired a new chief of staff, and she's just as extreme as he is.
Ruth Ward worked with Johnson from 2017 to the end of 2022, first as his director of scheduling and then as his director of operations. She left his office in December and joined the conservative Christian lobbying group Family Policy Alliance as its director of government affairs.
Ward was at FPA for more than nine months when Johnson called her back to be his chief of staff. But even in her relatively short time there, she pushed multiple false and dangerous conservative talking points.
In mid-October, Ward wrote a statement for FPA opposing the federal Equal Employment Opportunity Commission's new proposed policy to require that people be addressed by their preferred pronouns in the workplace. Ward somehow accused the EEOC of making it easier for people to sexually harass their colleagues with the policy.
"Harassment should be taken seriously in the workplace. But this proposal only distracts from these goals and puts women, minors in the workplace, and people of conviction and faith at risk," Ward said in the statement.
Ward also hosted a podcast episode during which her guest said that being asked to call someone by their preferred pronouns "poses some significant problems with respect to the First Amendment of the Constitution."
"The First Amendment says you have a right to free speech, and that means you cannot be compelled to speak official government orthodoxy with your own lips," Roger Severino, the vice president of domestic policy at the conservative Heritage Foundation, told Ward.
Ward has accused the government of "trans-ing children," or forcing kids to transition. She has insisted that babies can be "born alive" during abortions, which is not true and medically inaccurate. She has also urged pharmacies not to dispense the abortion medication mifepristone, saying it was a "health and safety threat to women and their children." There have been hundreds of studies proving mifepristone is safe to take. Ward also called pregnancy resource centers an "irreplaceable part of our community." In reality, crisis pregnancy centers are clinics set up to pressure people not to get abortions.

The New Republic contacted Johnson's office for comment, but they had not responded by the time of publication.
It's unsurprising that Johnson called Ward back to lead his team. They appear to share many of the same values: Johnson opposes abortion and openly espouses Christian nationalist beliefs. Johnson also blatantly rejects expressions of LGBTQ gender identity. Before entering politics, he worked with a group that promotes conversion therapy and the criminalization of gay sex, and Johnson even blamed sexual orientation for the fall of the Roman Empire.
When Johnson tapped Ward for his new chief of staff, the FPA congratulated her in a statement.
"We look forward to working with her and Speaker Johnson in the days ahead to advance social conservative values in this Congress," FPA President Craig DeRoche said.
The FPA actively promotes conversion therapy, which it describes as "basic talk therapy to resolve unwanted same-sex attraction." The organization insists that conversion therapy is "nothing more than traditional counseling methods," and has warned the government will take your child away just because you tried to help them get rid of these unwanted feelings.
In reality, conversion therapy is a dangerous practice that can involve "violent role play, reenactment of past abuses, and exercises involving nudity and intimate touching," according to the Southern Poverty Law Center. It has been "discredited by virtually all major American medical, psychiatric, psychological, and professional counseling organizations."
The FPA has helped successfully block bans on conversion therapy in nearly half the country.
Now that Ward leads his staff, groups such as the FPA will have a direct line to Johnson. And given Johnson's own background, it's highly likely that he will be only too happy to listen.