Biden Extends Pause on Student Loan Payments
The moratorium on student loan payments will be extended to June 30, 2023, as courts consider legal challenges to Biden's debt relief plan.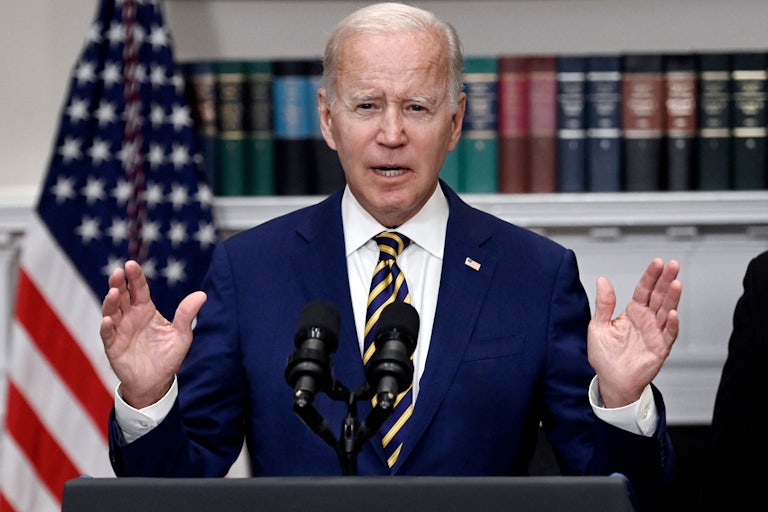 OLIVIER DOULIERY/AFP/Getty Images
Joe Biden continues to lean in, and not out, of his ambition to support millions of borrowers nationwide. On Tuesday, President Biden announced an extension of the payment pause for federal student loans, while his debt cancellation plan confronts legal challenges in court.
The pause, originally set to end in January, will now extend to June 30 or until the legal challenges are resolved, whichever comes first. As of now, payments will resume 60 days after the pause's conclusion.
"Republican special interests and elected officials sued to deny this relief, even for their own constituents," Biden said in an announcement video on Twitter. "But I'm completely confident my plan is legal."

The president argued that it wouldn't be fair to ask millions of borrowers eligible for his relief plan to resume their payments while the court was still considering his plan. "I'm never going to apologize for helping working-class and middle-class families … and I'll continue working to make government work to deliver for all Americans," Biden said.
In August, Biden first announced the plan to cancel up to $20,000 in debt per eligible borrower. In late October, a federal appeals court stayed the implementation of the plan, days after the government had begun accepting applications from borrowers across the nation. Now the Supreme Court is tasked with the administration's request to supersede the appeals court and reinstate the plan.
Biden believes the June 30 deadline for the student loan payment moratorium will give the Supreme Court enough time to issue a ruling.
More on the Legal Challenges to Biden's Student Debt Relief Plan