Republicans Are Turning on Mitch McConnell Over His Support for Ukraine
Of all the reasons to hate Mitch McConnell ...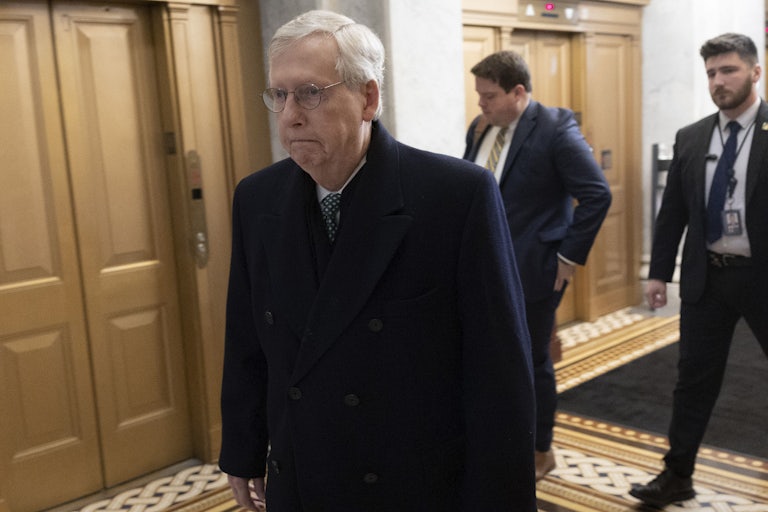 Win McNamee/Getty Images
Republicans have begun to turn on Senator Mitch McConnell over his support for Ukraine.
The Senate minority leader on Tuesday reiterated his support for Kyiv as it fends off Russia's invasion. He also urged Congress to pass the $1.7 trillion omnibus spending bill, which includes $45 billion in new emergency funds for Ukraine.
"Providing assistance for the Ukrainians to defeat the Russians, that's the number one priority for the United States right now, according to most Republicans," McConnell told reporters. "That's sort of how we see the challenges confronting the country at the moment."
Republicans went off on McConnell's words.
Representative Marjorie Taylor Greene accused McConnell of forgetting about constituents struggling under inflation, while Representative Chip Roy argued that the additional funds to Ukraine were too much and shared a Breitbart article criticizing McConnell.

Fox News contributor Lisa Boothe suggested sending McConnell to Ukraine, and former Newsmax and OANN correspondent Emerald Robinson said the senator was being deferential to "the Swamp." Conservative news outlet The Federalist ran an article headlined, "GOP Can't Be Successful Until Mitch McConnell Is Gone."
Representative Kevin McCarthy, who is seeking to be the next House speaker, has already indicated Republicans will sharply cut back on Ukraine aid once they take control of the chamber.
There are many reasons to dislike McConnell, such his continued enabling of former President Donald Trump, his refusal to take a firm stance on the January 6 insurrection, and his opposition to basic human rights. But his continued support for Ukraine—a sovereign nation trying to fend off an unprovoked attack on its democracy and independence—should not make that list.