Biden Introduces Plan to Shrink the Deficit While Funding Childcare, Medicare, and Prekindergarten
The proposal: Tax the rich and eliminate subsidies for the fossil fuel industry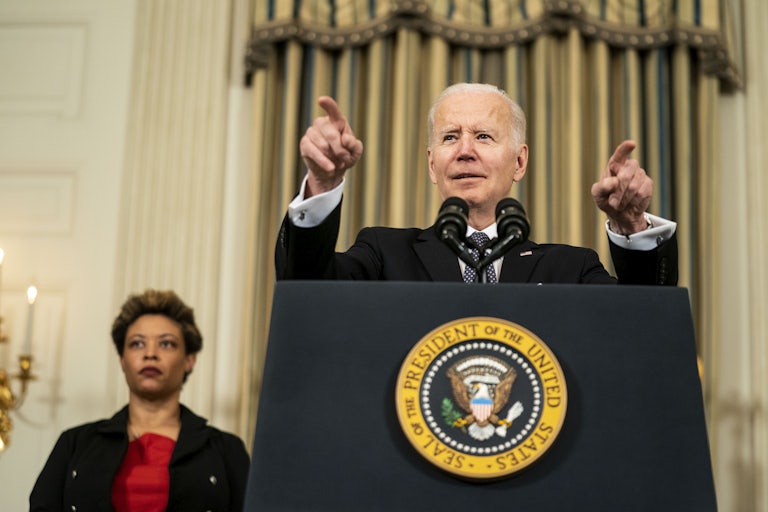 Kent Nishimura/Los Angeles Times/Getty Images
President Joe Biden takes questions from reporters after announcing his budget for fiscal year 2023.
President Joe Biden unveiled a $6.8 trillion budget on Thursday that would expand support for poor and middle-class Americans—and tax the rich to help pay for it.
"Folks, let me tell you what I value with the budget I'm releasing today," he said at an event in Philadelphia. "I value everyone having an even shot. Not just labor, but small-business owners, farmers, so many of the people [who] hold the country together who have been basically invisible for a long time."
The proposed budget includes hundreds of billions of dollars each for childcare assistance, health coverage assistance, home care for the elderly and disabled, paid leave for workers, free community college and prekindergarten, and homeowners' and renters' assistance. The plan is a blueprint of Biden's priorities as he prepares—presumably—to run for reelection.
Biden said his plan would reduce the federal deficit by $3 trillion over the next 10 years, primarily by increasing taxes on wealthy Americans and corporations. He would also increase payroll and income taxes on single filers who make more than $400,000 a year and raise the corporate tax rate from 21 to 28 percent (in 2017, Donald Trump reduced it from 35 percent).
Biden already previewed another part of the plan earlier this week: extending Medicare into the 2050s, a direct challenge to Republicans who want to slash funding for the program. His budget would let Medicare negotiate prices for a wider range of prescription drugs, an expansion of part of the Inflation Reduction Act. The money saved by negotiating drug prices would then be reinvested in the Medicare trust fund.
The budget would also quadruple a newly implemented tax on corporate stock buybacks and eliminate tax incentives for the oil and gas industry, forcing companies to invest their funds back into the economy, instead of keeping money within their own organizations.
With Republicans in control of the House of Representatives, this budget doesn't stand a chance of becoming reality. The GOP has made clear they are willing to hold the debt ceiling hostage in order to cut costs in the federal budget—though they have not said exactly how they propose to cut costs. Some Republicans have hinted at cutting Medicare and Social Security, then denied this intent following backlash.
Senator Rick Scott, who came under particular fire from Biden for a proposal to sunset Medicare every five years, immediately criticized the president's budget.
Biden's "budget should be a wake-up call for the American people," the Florida Republican tweeted. "He isn't concerned about reducing the debt or lowering inflation. He's focused on throwing money at his woke agenda."
Democrats, including Biden, have said they refuse to compromise on the debt ceiling, setting up a protracted battle. But if the debate drags out too long, the United States could be in economic peril. The government hit the debt ceiling in January and could default on its debt by the summer if the cap isn't raised, according to Treasury Secretary Janet Yellen.