Rick Scott Finally Caves, Changes Plan To Sunset Medicare and Social Security
The Florida senator says he didn't really mean it, okay?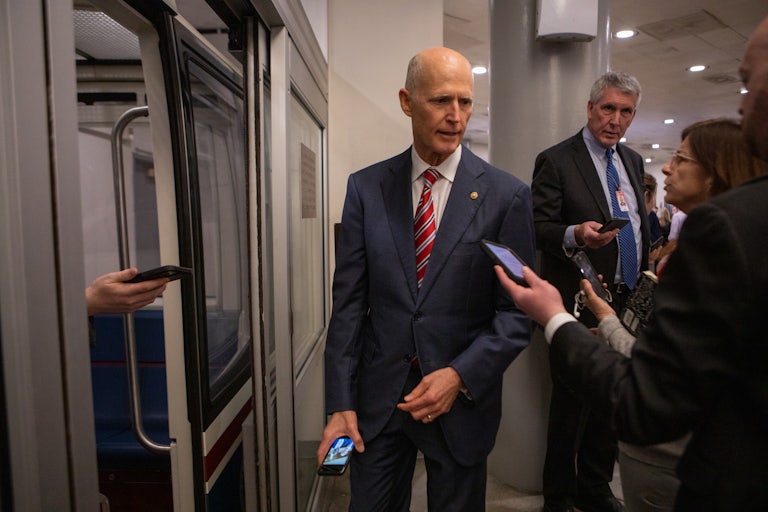 Anna Rose Layden/Bloomberg/Getty Images
Rick Scott wants everyone to know that when he said "all federal legislation" should sunset after five years, he didn't mean programs such as Medicare or Social Security.
The Florida senator has come under fire since the State of the Union, when President Joe Biden called out "some Republicans [who] want Medicare and Social Security to sunset." Although he didn't name names, it was a direct reference to Scott's year-old proposal to sunset laws and re-vote on them every five years.
By Friday morning, Scott had amended the language in his proposal to specifically exempt federal entitlement programs.
The edits also included a note directly to Biden, Senate Majority Leader Chuck Schumer, and Senate Minority Leader Mitch McConnell: "Note to President Biden, Sen. Schumer, and Sen. McConnell—As you know, this was never intended to apply to Social Security, Medicare, or the US Navy."
So there!
Biden scored a big win during the State of the Union address when he appeared to get Republicans to agree not to cut funding for Medicare or Social Security. Both McConnell and House Majority Leader Kevin McCarthy have criticized Scott's proposal. Even Donald Trump, who tried to cut the programs' funding every year he was in office, bashed Scott's plan.
Despite Scott's sudden about face, Republicans have, by and large, tried to end the entitlement programs since they began in 1935. Since the party took control of the House of Representatives in January, they have been weighing options to slash Social Security and Medicare, ostensibly in order to curb federal spending. GOP lawmakers are threatening to hold the debt ceiling hostage until the federal budget is reduced, and Social Security and Medicare are on the chopping block.
Scott initially tried to deflect Biden's accusation that he wanted to sunset the programs by doubling down on his plan to cut the programs.
But as he made abundantly clear Friday, that was never actually the plan. Ok, guys?