Republicans Have Long Wanted to Cut Medicare and Social Security. Don't Fall for the Fake Outrage Now.
You'd never suspect it from their reactions to Biden's State of the Union. But here's the proof.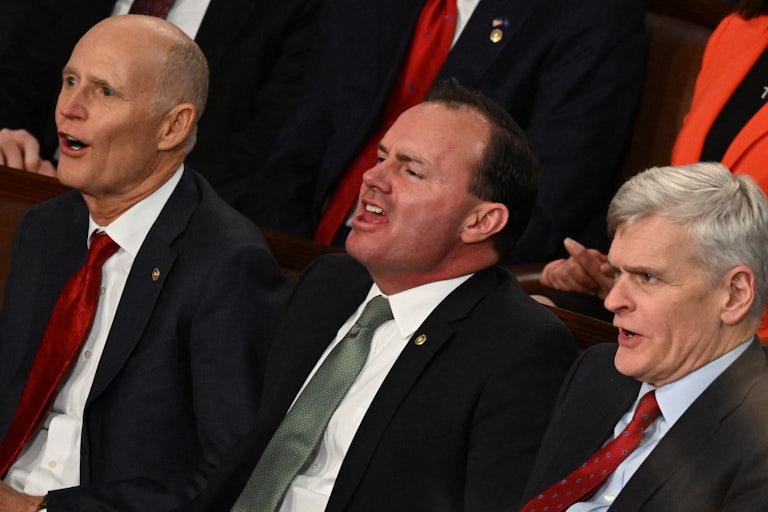 ANDREW CABALLERO-REYNOLDS/AFP/Getty Images
Senators Rick Scott, Mike Lee, and Bill Cassidy yell as President Joe Biden delivers the State of the Union address on February 7.
You'd never suspect Republicans have been trying to slash Social Security and Medicare for years, based on their reactions to Joe Biden's State of the Union address.
The president scored a big win Tuesday night when he appeared to get Republicans to agree not to cut funding for Medicare or Social Security during his speech.

Republicans were outraged when Biden said some of them were proposing to "sunset" the federal entitlements programs—and have since doubled down, claiming they intend to do no such thing. But not only have GOP lawmakers suggested slashing the funding multiple times in the past year, the party has been out to end the programs since they began.
Republicans have held a "visceral and abiding dislike" for the welfare programs since the Social Security Act was implemented in 1935, according to the historian Lewis L. Gould. Since the party took control of the House of Representatives in January, they have been weighing options to slash Social Security and Medicare, ostensibly in order to curb federal spending. GOP lawmakers are threatening to hold the debt ceiling hostage until the federal budget is reduced, and Social Security and Medicare are on the chopping block.
Mike Lee looked appalled that Biden said his party would cut Social Security funding, despite saying quite clearly on camera during his first Senate campaign in 2010, "It will be my objective to phase out Social Security, to pull it up from the roots and get rid of it."
Rick Scott has previously proposed sunsetting the programs every five years. The morning after the State of the Union, he tried to refute Biden's accusation—by doubling down on his plan to cut Social Security and Medicare. In August, Ron Johnson went even further, proposing removing Social Security and Medicare as federal entitlement programs and instead making them discretionary spending programs that Congress approves on a yearly basis.
The list goes on: Lindsey Graham proposed changing the income cap and eligibility age for the programs in June. Michael Waltz said in January the entitlements program needs to be considered when it comes to cutting the federal budget. And just last week, Kevin Hern said he "wouldn't think it'd be off the table" in regard to slashing Social Security and Medicare.
Even Donald Trump tried to cut the programs every year he was in office. For the 2021 federal budget alone, he proposed slashing about half a trillion dollars from Social Security and Medicare. Again, these are just a handful of examples in a larger Republican agenda to cut the social safety programs.
So it's no wonder Biden looked so gleeful as half of Congress shouted at him Tuesday night.