Treasury Resorts to "Extraordinary Measures" as U.S. Hits Debt Ceiling
The Treasury Department is taking steps to make sure the U.S. doesn't default on its debt, as House Republicans and the White House continue to face off.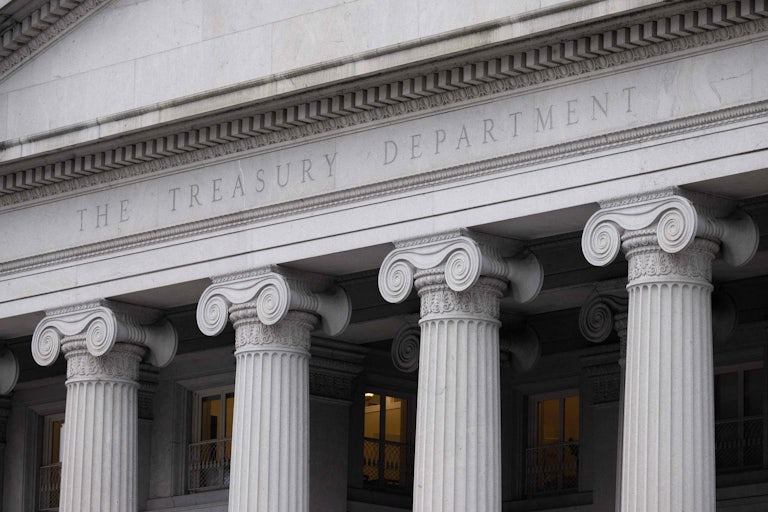 SAUL LOEB/AFP/Getty Images
The Treasury is having to resort to "extraordinary measures" to prevent the United States from defaulting on its debt, which could plummet the country into a recession, Secretary Janet Yellen told Congress Thursday.
In a letter, Yellen explained the U.S. has reached its $31.4 trillion debt limit, forcing her to take steps to ensure the government does not default and has a little more time to solve the problem. For now, those "extraordinary measures" include redeeming and suspending new federal investments in the Civil Service Retirement and Disability Fund and the Postal Service Retiree Health Benefits Fund. In a letter last week, Yellen also expected that the Treasury will suspend reinvestment of the Government Securities Investment Fund of the Federal Employees Retirement System Thrift Savings Plan.
Suspending investment in these funds will preserve the country's credit until June, but Yellen noted that the amount of time these measures will work is "subject to considerable uncertainty" and urged Congress to act quickly.

She warned last week that defaulting would cause "irreparable harm to the U.S. economy."
The debt ceiling is the maximum amount of money the U.S. can borrow. The current level was set two years ago. If the government reaches its borrowing limit, it could default on its debt or fail to make a payment. Already high prices and inflation could skyrocket, sending the U.S. into a recession.
House Republicans, who hold the majority in the chamber, refuse to raise the debt ceiling and instead are trying to slash spending in other areas, such as entitlement programs, including Social Security and Medicare. But Democrats and President Joe Biden refuse to negotiate, with White House spokeswoman Karine Jean-Pierre warning Wednesday that the debt limit should not be used as a "political football."
Defaulting means the government would be unable to pay military salaries and Social Security benefits. A lower debt ceiling would also mean less funding for programs such as Medicare and Medicaid, SNAP or food stamps, and meal programs for low-income students.
During the last debt ceiling standoff in 2021, Mark Zandi, the chief economist at Moody's Analytics, warned that defaulting would send the U.S. into an almost immediate recession, wiping out up to $15 trillion in household wealth and nearly doubling the unemployment rate from about 5 percent at the time to about 9 percent.
"This economic scenario is cataclysmic.… The downturn would be comparable to that suffered during the financial crisis" of 2008, Zandi and Bernard Yaros, Moody's assistant director and economist, said in a report.