Justice Department and EPA File Lawsuit Against Norfolk Southern for Polluting East Palestine
The lawsuit seeks to hold the rail company responsible for a disastrous train derailment in East Palestine, Ohio.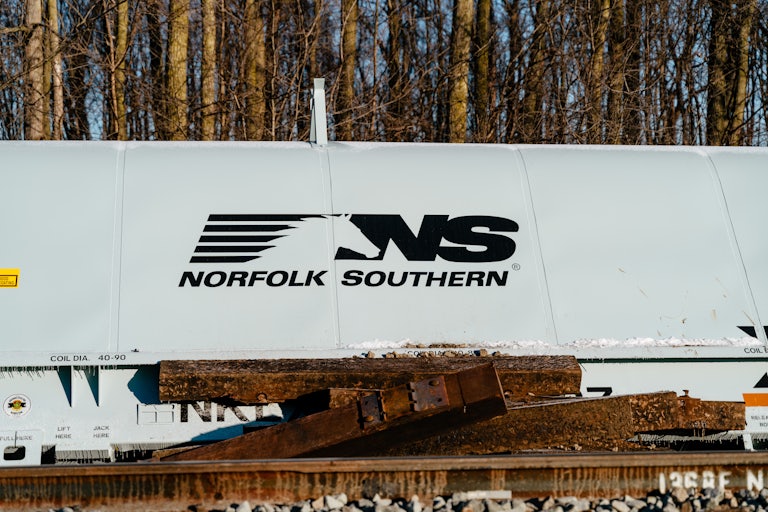 Nick Hagen/Anadolu Agency/Getty Images
The Department of Justice has filed a lawsuit against Norfolk Southern for the "unlawful discharge of pollutants, oil, and hazardous substances," seeking liability from the company for past and future costs incurred.
"When a Norfolk Southern train derailed last month in East Palestine, Ohio, it released toxins into the air, soil, and water, endangering the health and safety of people in surrounding communities," Attorney General Merrick B. Garland announced on Friday. "With this complaint, the Justice Department and the EPA are acting to pursue justice for the residents of East Palestine and ensure that Norfolk Southern carries the financial burden for the harm it has caused and continues to inflict on the community."

The Justice Department filed the suit on behalf of the Environmental Protection Agency, and in coordination with the U.S. Attorney's Office for the Northern District of Ohio. The lawsuit cites Norfolk Southern's violations of the Clean Water Act, or CWA, and the Comprehensive Environmental Response, Compensation, and Liability Act, or CERCLA.
Ohio filed a federal lawsuit on similar grounds two weeks ago, seeking to ensure the company paid for environmental cleanup and damages and for groundwater and soil monitoring in years to come.
While conservatives have attacked practically every level of government for the response to the East Palestine disaster, it's worth noting that if Republicans had it their way, there would be less legal basis, like the CWA and CERCLA, for agencies to actually hold corporations accountable. Even since the derailment, Republicans—essentially every single congressional Republican and 24 attorneys general, including Ohio's—have been working to weaken water protection. The effort, if successful, would implicate waterways similar to the ones polluted in the East Palestine disaster.
In a statement regarding the lawsuit, EPA Administrator Michael S. Regan said the agency will hold Norfolk Southern "fully accountable."
"No community should have to go through what East Palestine residents have faced," he said. "With today's action, we are once more delivering on our commitment to ensure Norfolk Southern cleans up the mess they made and pays for the damage they have inflicted as we work to ensure this community can feel safe at home again."