Taliban Members Get "Verified" Blue Checks on Twitter Thanks to Elon's Genius Idea
One Taliban member thanked Elon Musk for "making Twitter great again."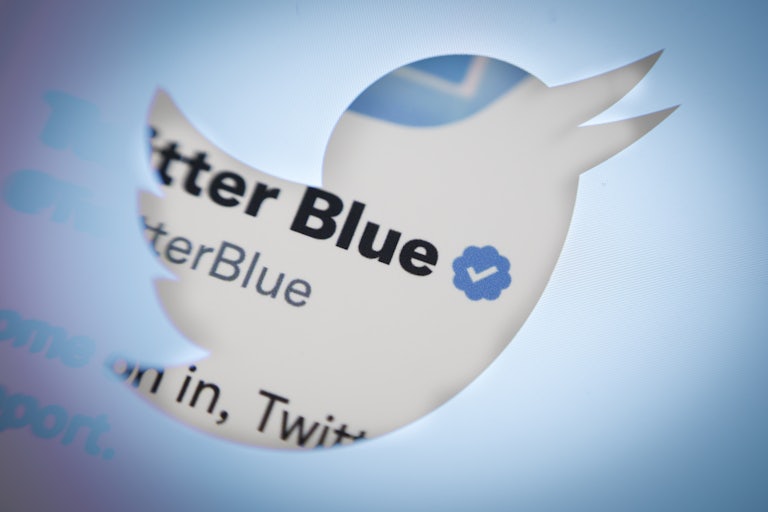 NurPhoto/Getty Images
Members of the Taliban were able to temporarily subscribe to Twitter's pay-for-verification feature, adding blue check marks to their accounts that appeared to confer a degree of legitimacy on the extremist regime.
At least two Taliban leaders and four prominent supporters were able to subscribe to Twitter Blue, the BBC reported Monday. They included Hedayatullah Hedayat, head of the Taliban's department for "access to information"; Abdul Haq Hammad, head of the media watchdog at the Afghan Ministry of Information and Culture; and Muhammad Jalal, who praised Twitter owner Elon Musk for "making Twitter great again" after acquiring a blue check.
As of Tuesday, two of the officials mentioned in the BBC's report had lost their blue checks. Neither Twitter nor Musk has publicly commented on why that happened.
"The main goal of the Taliban regime is to receive recognition," Joseph Azam, board chair of the Afghan-American Foundation, told The New Republic. "For all of its current challenges, Twitter is considered to be a place where people are platformed. And so, for them to get verified would be a significant platforming of them and would give them some legitimacy that they haven't been able to get through other more formal, historically relevant channels."
"It puts them on par with other governments, in a way, which is what they want," Azam said. "That matters. When you can't get a seat at the U.N. … the next best thing are these informal channels."
Musk unveiled plans for Twitter Blue shortly after his chaotic takeover of the platform in October, arguing it would help bring in revenue. Subscribers pay $8 a month for the blue verification check mark and, crucially, priority visibility on the platform. The subscription plan initially launched in November but was halted due to people verifying fake accounts to trick other users. Twitter Blue launched again in December, this time in earnest.
Experts have warned that Twitter Blue would increase the spread of misinformation. They have also said that Musk's various plans, which included firing Twitter's content moderators and rolling back disinformation policies, would allow hate speech and extremism to spread unfettered on the platform.
The Taliban receiving Twitter verification, even temporarily, is a chilling example of those warnings coming to bear. Twitter's blue check mark, once highly coveted, still conveys a level of credibility and legitimacy to a bearer.
"Unfortunately, Elon Musk–controlled Twitter has allowed Taliban officials to commit their violence through online discourse as well, where they offer false narratives about the situation in Afghanistan," said Halema Wali, co-director of Afghans for a Better Tomorrow.
Azam explained that verifying Taliban accounts portrays them as "the one true source of information on Afghanistan."
"Once that credence takes hold, what it does for everybody else is it makes their realities less relevant. It makes it harder for people who don't agree with them and who don't have the platform, or reach, to be heard."
As the Taliban continues to tighten its grip on Afghanistan, including in a huge crackdown on women's right to education and work, any degree of credibility given to it only strengthens its position on the global stage. Twitter verification, even temporary, further isolates the people still in the country.
"Afghans have run out of allies. They've run out of avenues for redress, they've run out of platforms, they've run out of ways to be heard," Azam stressed. "The private sector and nongovernment, it's actually one of the most important remaining tools that 40 million people in Afghanistan have. The governments have turned their back on Afghans. So the responsibility that companies like Twitter have … is to try to offset that, or not make the same mistake. And I think that's the part of this that's really disappointing."
This post has been updated.