Nikki Haley (Finally) Admits She's Running for President
The former South Carolina governor has balanced a careful line of keeping warm relations with Trump while distancing herself when she had to. Now what?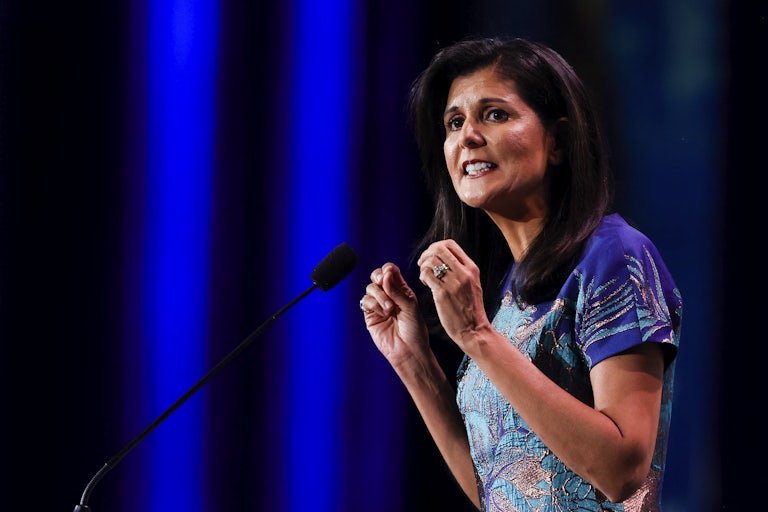 WADE VANDERVORT/AFP/Getty Images
Nikki Haley is running for president.
After much speculation of will-she-won't-she spanning as far back as when she was floated as a potential vice presidential pick in 2012, the former South Carolina governor now joins the field against the same man who appointed her as U.S. ambassador to the United Nations.
Haley, like many Republicans, has carefully trodden the line between maintaining warm relations with former President Donald Trump while also trying to distance herself from the twice-impeached leader whenever she felt compelled to. But in her video announcement on Tuesday, Haley called for "a new generation of leadership," seemingly a slight dig at Trump.

Haley also pointed out in her ad that "Republicans have lost the popular vote in seven out of the last eight presidential elections," saying that has to change (perhaps an admission that it's bad, and maybe invalidating, for a party to lose the popular vote).

Haley's balancing act thus far has been pretty pathetic to watch, as has her journey to choosing to run in 2024.
After resigning as Trump's U.N. ambassador in 2018, she moved back to South Carolina and published a memoir the following year, slowly building up funds through speaking engagements. In 2021, Haley had said she wouldn't challenge Trump if he ran.
"I would not run if President Trump ran, and I would talk to him about it," Haley told the Associated Press. "That's something that we'll have a conversation about at some point, if that decision is something that has to be made."
And a conversation they did indeed seemingly have. Trump apparently blessed Haley's candidacy. He recently told reporters that Haley called him in January to tell him she was considering jumping in and that he told her she "should do it."
Though she seemingly calls for change in her announcement ad, Haley has long had the impulse to pacify Trump and has refrained from directly criticizing him the last few years. This, even while she's running against him, says all you need to know about most of the people who have expressed interest in running against Trump: They simply don't have the juice. Tim Scott, another South Carolina Republican rumored to be toying with a run supported by numerous members of Congress, has previously said he would support Trump in a 2024 bid (he said this after January 6, 2021), and then a year later implied he'd be happy to be Trump's running mate.
And if Haley, or Republicans generally, plan to recoup the popular vote, they have a tall task ahead of them. Trump lost to Biden by over seven million votes in 2020. And Republicans' unpopular agenda that focuses more on whipping up imagined culture wars and taking away the right to abortion has not paid off since, given the party's relatively poor performance in 2022.
Haley and any other Republican of color who chooses to run will also deal not only with the Trump-elephant in the room but also navigating how they manage their own identity. In her ad, Haley described herself as "the proud daughter of Indian immigrants." But she registered herself as "white" on her 2001 voter registration card. She has also previously invoked her Indian roots as she backed Trump's 2020 bid, claiming "America is not a racist country," in the same breath that she recounted discrimination her family faced upon immigrating to America.

Some of this racial navigation has also come in the form of Haley saying U.S. citizen Senator Raphael Warnock should be deported.
Haley will of course also face a challenge of being a woman of color candidate in general. One 2022 poll showed that, unfortunately, voters of all stripes see the "ideal" president as a man. But among Republicans in particular, 50 percent said the ideal president would be male while just 2 percent said she would be female.
While Haley navigates not trying to step on Trump's toes and trying to appease the racist factions in her party, she assured in her ad that, in this ring, she has her gloves on. "You should know this about me: I don't put up with bullies," she said. "And when you kick back, it hurts them more if you're wearing heels."