Idaho Becomes the First State to Ban Helping People Get an Abortion
The new law against "abortion trafficking" carries a penalty of up to five years in prison.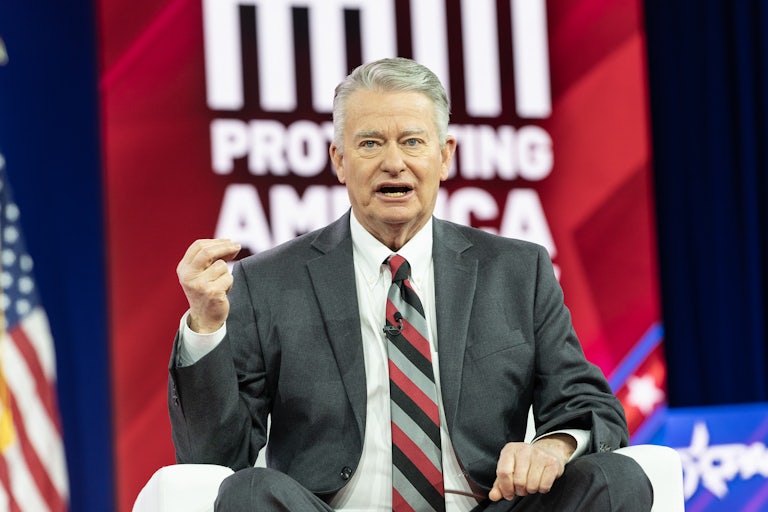 Lev Radin/Pacific Press/LightRocket/Getty Images
Idaho Governor Brad Little at the Conservative Political Action Conference earlier this year
Idaho's Republican governor, Brad Little, has signed a law banning people from helping others access abortions.
The bill, which became law Wednesday, would ban any adult from taking a minor out of state to get an abortion or abortion medication without their parents' consent. The measure originally said this would constitute human trafficking but was later amended to use the phrase "abortion trafficking."
Anyone who helps a minor obtain an abortion out of state could face up to five years in prison. The bill also changed existing law to say that the person who impregnated the minor, even if the pregnancy is the result of rape or incest, can sue over the abortion. The new law makes no exceptions for minors who are in abusive households, and it does not clarify whether both parents need to consent to the abortion or just one.
If a local prosecutor declines to take the case, the law says, the Republican state attorney general can take the case instead.
Idaho Senate Minority Leader Melissa Wintrow, a Democrat, warned last week that the bill is "unnecessary and unneeded and further shackles young girls who are in trouble, and then it harms the parents' friends, the relatives, etc., who are trying to help her."
Abortion has been banned in Idaho since Roe v. Wade was overturned, with exceptions to save the pregnant person's life or for rape or incest. But rape and incest survivors must first report the crime to law enforcement before they can get an abortion. Neighboring states including California, Washington, and Oregon have touted themselves as safe places to get an abortion, but Idaho's new law will make it all the more difficult to access those services.
Idaho is not the first Republican-led state to try to criminalize traveling out of state for an abortion, although it is the first to codify it into law.
In March, before the Dobbs draft opinion had even been leaked, Republican state lawmakers in Missouri introduced a bill that would allow individuals to sue anyone who helped a state resident get an abortion, including an out-of-state health care provider or anyone providing transportation across state lines. State House lawmakers blocked the bill a few weeks later.
Democrats in the U.S. House of Representatives reintroduced a bill in February that would protect anyone seeking an abortion out of their home state, as well as anyone who helps them. But the bill has yet to even make it to committee and is unlikely to pass the Republican-controlled chamber.
More on Idaho GOP extremism