Undercover Officers Were Sent to Investigate a Drag Show in Orlando, for Some Reason
Agents in attendance saw nothing lewd to report. The state is trying to punish the venue anyway, amid Gov. Ron DeSantis's anti-LGBTQ crackdown.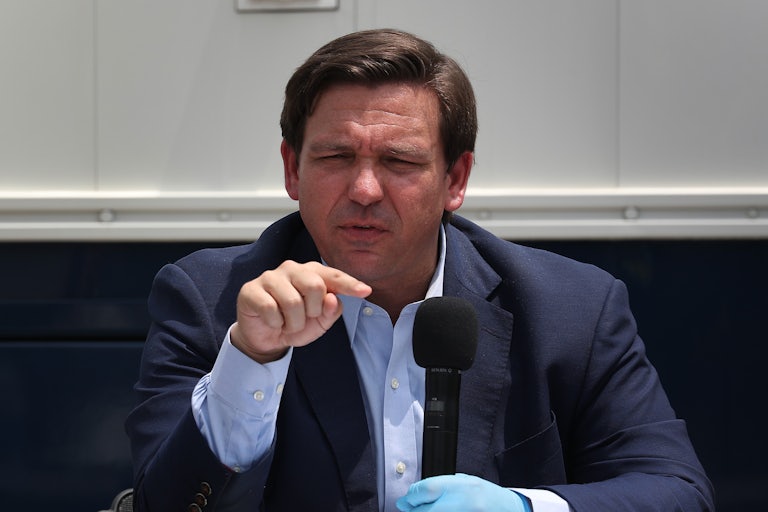 Joe Raedle/Getty Images
Undercover Florida state agents attended a Christmastime drag show in Orlando to prove that children were being exposed to obscene performances—only to report back that no such thing occurred.
The agents were part of the packed crowd who watched A Drag Queen Christmas at the Plaza Live theater in Orlando on December 28. They recorded the performance on state-issued phones and took pictures of the crowd. Only three minors were in attendance, all accompanied by adults. The agents subsequently reported that nothing indecent had happened during the show, The Miami Herald reported Monday.
"Besides some of the outfits being provocative (bikinis and short shorts), agents did not witness any lewd acts such as exposure of genital organs," the agents' report said.

But in February, the Florida Department of Business and Professional Regulation filed a complaint against the nonprofit that runs Plaza Live, accusing the venue of exposing children to sexual content. The complaint seeks to strip the theater of its liquor license, a move that could put it out of business.

Florida Governor Ron DeSantis, who has been pushing an anti-LGBTQ agenda as he positions himself for what's anticipated to be a presidential run, had previously warned any venues that hosted the touring show A Drag Queen Christmas that his administration would seek legal action against them. He has also mentioned the possibility of having child protective services investigate parents who take their children to drag shows. A Drag Queen Christmas required individuals under the age of 18 to be accompanied by an adult in order to attend.

DeSantis has also moved to strip the Orlando Philharmonic Plaza Foundation and the Hyatt Regency in Miami of their liquor licenses for allegedly allowing children to attend the drag show. The complaint against the Hyatt Regency did not provide any evidence that minors had been in attendance other than one blurry photograph of a person's face.

Former Florida Democratic legislator Carlos Guillermo Smith told the Herald the agents' report proves the "moral panic" about drag shows is a "hoax."

"What you see here is the governor sending in investigators and then dismissing what the investigators have to say because it doesn't fit into his narrative," Guillermo Smith said. He noted that the state doesn't regulate what movies parents show their children.

"It's more evidence that all of this … is contrived, it's politically motivated," he said. "And it's not about protecting children. It's part of an ongoing effort to marginalize LGBT people and their allies."

DeSantis has declared war on anything he deems to be "woke," particularly LGBTQ rights. He enacted the state's famous "Don't Say Gay" law, banned transgender women from playing women's sports, and vowed to defund diversity, equity, and inclusion programs on college campuses.

He is also part of a larger trend of Republicans demonizing drag queens and trans people. Many on the right say that attacking the LGBTQ community is a means to protect children, but their actions actually put people—including children—at an increased risk of violence.